MLBTR's list of general manager candidates introduced 20 people who were identified by their peers as potential Major League GMs. We're now going to bring you closer to the candidates with a series of pieces. Today the series continues with Tigers executive Al Avila.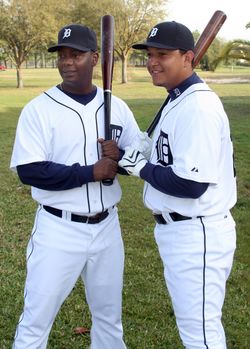 When you consider where Al Avila came from, it's not surprising that he has an eye for talent. The Tigers assistant GM grew up watching baseball alongside his father, longtime Dodgers scout and executive Ralph Avila, family friend Tommy Lasorda and veteran baseball executive Al Campanis. So Avila had no choice – he watched a lot of baseball growing up.
He played, too, but unlike his son, All-Star catcher Alex Avila, Al didn't have much of a playing career. Soon after signing as a non-drafted free agent, he moved on to other pursuits, running the Daytona Beach Admirals (a job that included everything from public address announcing to helping the grounds crew) and coaching at St. Thomas University. 
Avila, a native Spanish speaker, has extensive experience in Latin America, so he was a fit for the expansion Marlins and joined the club as assistant director of Latin American operations in 1992. Under Avila, who became scouting director in 1998, the Marlins signed Luis Castillo, Alex Gonzalez, Edgar Renteria, Livan Hernandez and Miguel Cabrera (pictured with Renteria) and drafted Adrian Gonzalez and Josh Beckett.  It certainly appears that Avila's early exposure to organized baseball paid off.
"My strength is on the baseball side as far as scouting and player development," he told MLBTR. "As far as the statistics, I'm not on the computer and creating all the stats, but I do use them. I see them as a tool to help you reach a better decision."
Avila says he considers numbers while making decisions, but isn't about to forget his background in scouting and player development. In the draft, for example, the Tigers will take players' stats into account and ultimately trust the eye of scouting director David Chadd.
Avila and Tigers GM Dave Dombrowski, the Marlins' GM from 1991-2001, worked together in Florida, leading the Marlins to their first World Series Championship, before assuming their current roles in Detroit. Avila, who served as the Marlins' interim GM after Dombrowski left the Marlins for the Tigers, now assists the GM with the Major League roster, the minor league affiliates, pro scouting and amateur scouting. 
It's a broad set of responsibilities that hasn't gone unnoticed by MLB owners. Avila interviewed for GM jobs with the Reds, Orioles, Mariners and Diamondbacks and became a finalist for the latter two openings. More recently, the Tigers denied the Mets' request to interview Avila this past offseason, but his peers say it won't be a surprise if Avila ends up in a GM's office before long.
Photo courtesy Icon SMI.