San Diego's relievers combined to strike out more than a batter per inning over the course of the 2010 season, while limiting hits, walks and homers. Manager Bud Black saw five of his relievers appear in 30 or more games and emerge with ERAs under 2.00 at the end of the season and the Padres' NL West rivals weren't the only ones to notice.
Blue Jays GM Alex Anthopoulos says he'd like to have a deep bullpen in 2011, like the Padres did last year. He says he's happy to keep more relievers than usual on his roster this year and that the acquisition of Frank Francisco doesn't mean a trade is imminent. The Blue Jays' plans for their relievers haven't changed.
"No impact at all," Anthopoulos said yesterday on a conference call to announce the acquisition of Francisco from the Rangers. "They're all quality relievers and we love having depth in the bullpen one through seven."
Or maybe one through eight. The Blue Jays have discussed the possibility of opening the season with an eight-man bullpen to accomodate their arms and provide manager John Farrell with a variety of options. Though the Jays could open the year with an extra arm in the 'pen, Anthopoulos said a traditional seven-man ensemble is more likely at this point. The Blue Jays' rotation is relatively young and inexperienced, so the team's front office would like to support starters like Brett Cecil and, possibly, Kyle Drabek with steady relief pitching.
"It's certainly part of it," Anthopoulos said. "We don't want to overtax our young starters."
The Blue Jays don't want to overtax their relievers, either. Anthopoulos says there can be a ripple effect when teams have deep bullpens. If every reliever is capable of performing in meaningful situations, no pitcher gets overused. But Anthopoulos has no illusions; even qualified, well-rested relievers struggle and the 2011 Blue Jays won't be any different.
"We all know that they will get hurt," he said. "Some of them won't perform. They'll have bad months."
Take Jason Frasor (pictured), one of the holdovers in the team's new-look bullpen. He walked nearly a batter per inning in April, 2010 and posted an 8.38 ERA through the season's first month, but recovered from his turbulent start and put together a fine year. He'll join Francisco and free agent signings Jon Rauch and Octavio Dotel, the relievers Anthopoulos expects to compete for the Jays' closing job.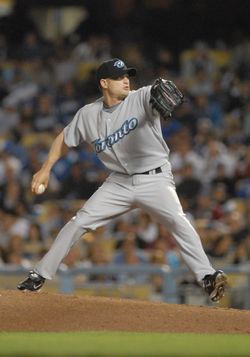 Shawn Camp, Casey Janssen and Carlos Villanueva are also right-handed relievers under team control for $1MM-plus in 2011, so the Blue Jays have a surplus of big league arms and could hear from pitching-starved teams before the season begins.
The Jays have seven established right-handed relievers, but Toronto's left-handers have considerably less experience. David Purcey, an out-of-options 28-year-old, was reasonably effective in 2010. He's a leading candidate to make the club, though his walk rate and fly ball rate have been high throughout his brief MLB career. Jo-Jo Reyes is also out of options, but he has made just 11 relief appearances as a pro. Jesse Carlson, who was a mainstay in 2009, could also crack the team's roster.
While their AL East rivals to the south, the Rays, had to lower payroll this offseason and rebuild their bullpen on a budget, Anthopoulos reaffirmed that he has the flexibility to ask for more money if necessary. The Blue Jays can continue spending on their bullpen, even as their young starters become more expensive.
Photo courtesy of Icon SMI.