The summer defection of agent Dan Lozano left Beverly Hills Sports Council without Albert Pujols, Joey Votto, Jimmy Rollins, Michael Young, and others.  Not long after, Dan Uggla and Jayson Werth departed.  However, BHSC recovered from a disappointing summer to put together a respectable winter, mainly by finding more dollars or years than expected for their relievers.
We know the new Blue Jays regime loves draft picks, and in early November they chose a $750K buyout and a pick over paying Kevin Gregg $4.5MM in 2011 or $8.75MM in 2011-12.  Beverly Hills ended up getting Gregg the first multiyear deal of his career, a two-year, $10MM deal with the Orioles with a vesting option that could bring the total to $16-20MM over three years.  Perhaps the Jays simply valued the sandwich pick more than whatever trade value Gregg would have had on a one-year deal, but it's also possible that they didn't expect him to do that well on the open market.
In October, I pegged Brian Fuentes for a one-year deal in the $4MM range, yet he has reportedly agreed to a two-year contract worth more than $5MM per season.  I feel like this contract might have been panned had the Astros signed it, whereas with Oakland some might find ways to justify it after the fact.  Regardless, it's clearly a player-friendly deal.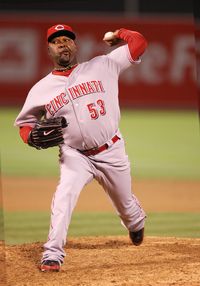 41-year-old lefty Arthur Rhodes received a $4.1MM guarantee from the Rangers, the best salary of his career.  With good health, he'll end up getting $7.9MM over two years.  In November, the Reds were unwilling to take the risk that Rhodes, a Type A free agent, would accept an offer of arbitration.  Since he only earned $2MM in 2010, it's difficult to believe Rhodes would have topped $4.1MM for 2011.  The implication: Rhodes is another BHSC client who got more on the open market than his old team expected in November.
Will Ohman was coming off a pair of minor league deals, but this winter he snagged a two-year, $4MM deal with the White Sox.  The second guaranteed year was a win for the agency.  The entire relief market has been inflated from the start this offseason, but BHSC is still brokering player-friendly deals in January. 
Beverly Hills also hammered out deals for Tsuyoshi Nishioka, Octavio Dotel, and Brad Hawpe this winter.  They've got unfinished business in Todd Coffey and Chad Durbin.  After reaching an agreement on a $3.3MM second-year arbitration salary for Ryan Theriot, BHSC has five arbitration cases: Hunter Pence, Ryan Ludwick, Darren O'Day, Jesse Litsch, and Andy Sonnanstine.
Photo courtesy of Icon SMI.