The Offseason In Review series continues with the Marlins.
Major League Signings
Notable Minor League Signings
Extensions
Trades and Claims
Notable Losses
Summary
The Marlins had barely made a ripple in the free agent waters since the 2004-05 offseason, but this winter president Larry Beinfest and GM Michael Hill broke out the checkbook.  They made early November strikes for Buck and Vazquez, and also dealt away Uggla, Maybin, and Miller in a four-day span that same month.  The Fish are pushing payroll over $50MM for the first time since '05, but did they spend the extra money wisely?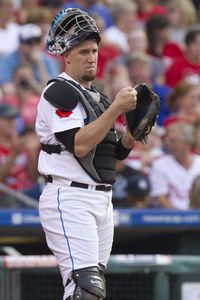 What was more surprising – that Buck scored an $18MM deal, or that it was with the Marlins?  Buck is a useful catcher, though a .247/.299/.484 line got him non-tendered by the Royals after '09.  In 2010 with Toronto, Buck reached a career high in playing time and hit for average for the first time in his career, but didn't seem to become a drastically different player than the one Kansas City cut loose.  Clearly the Marlins viewed Buck as a notch above the available catchers, with Victor Martinez out of their price range.  I imagine they assigned a premium to Buck's intangibles and felt they needed the leadership.
I can get behind the Vazquez gamble, even though the price was on the higher end for a reclamation project.  He turned down multiyear offers to play close to home.  Maybe Vazquez's velocity won't come back in 2011, but perhaps a return to the NL means 200 innings of 4.00 ball from the 34-year-old righty.  It's possible that after so many years of starting every fifth day, Vazquez just couldn't get back on track once the Yankees skipped starts and sent him to the pen.  I also like the addition of Shawn Hill, who seems like a poor man's Justin Duchscherer.
Choate is a strong bet to continue shutting down lefties, though his agency deserves a nod for snagging a second year.  I like Choate more than Will Ohman, who received $1.5MM more.  Buck, Vazquez, and Choate are all represented by ACES, a firm that also pounced on the Tigers' desire to act early by getting strong deals for Brandon Inge, Jhonny Peralta, and Joaquin Benoit.
The Marlins also bucked their traditional minor league free agent approach to bullpen-building.  Aside from signing Choate, they added big arms Dunn, Mujica, Webb, and Richardson through trades.  It seems early to give up on Maybin, who turns 24 in April and has yet to reach arbitration.  Even Beinfest admitted Maybin "never really had the sustained time in the big leagues to show what we think he was capable of doing at the time of the trade [with Detroit]."  In Florida's defense, they received two controllable relievers for a player who could simply flame out in San Diego.  The price for a guy like Webb might have risen as the offseason progressed and free agent relievers started signing for good money.  The Marlins will turn to Chris Coghlan in center field, a position he's never played as a pro.     
Florida's free agent spending was made possible in part by trading Uggla to the division-rival Braves after he wisely rejected a four-year, $48MM extension offer.  I found the return for Uggla to be disappointing for the Marlins, who could have kept him for $10-11MM for 2011.  They lose about 25 home runs out of the second base spot, and Infante is a year away from free agency as well.  Marlins owner Jeffrey Loria said that "the home run hitters didn't win enough games for us" as justification for the power subtraction.  The Marlins may have felt that they'd be better served redistributing Uggla's money toward pitching and defense.  And if they weren't necessarily willing to offer arbitration to the slugging second baseman after the 2011 season, they risked getting no players in return.  
The Marlins deserve credit for hammering out an extension with Nolasco, buying out a free agent year from their number two starter.  With Josh Johnson, Nolasco, Vazquez, and Anibal Sanchez, the Marlins have a formidable front four.  
A year after signing zero Major League free agents, the Marlins committed over $27MM to three this offseason.  Beinfest and company focused on Buck's leadership, Vazquez's innings, and upgrading the bullpen, with the expectation that they'll still have a strong lineup one through seven without Uggla.  The Marlins may not be considered the NL East favorite, but their top-shelf young talent makes them a sleeper for 2011.
Photo courtesy Icon SMI.