If the Cardinals sign Albert Pujols to an eight or ten-year deal when he hits free agency after the season, they'll be counting on him to maintain his Hall of Fame-type production into his late 30s. But the Cardinals front office would be gambling on more than Pujols.
Unless the team boosts payroll significantly, GM John Mozeliak and the St. Louis front office would be gambling on themselves to fill out a roster with less spending power than they're accustomed to. Owner Bill DeWitt Jr. committed between $75-100MM in payroll every year from 2001-10. Fitting a $25-30MM player into that type of budget would limit the Cardinals' ability to spend on other needs and would likely leave them with a weakened bullpen and infield as soon as 2012.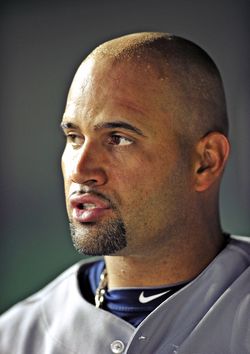 The Cardinals' rotation alone will cost about $47MM next year, assuming the team exercises its options for Chris Carpenter ($15MM) and Adam Wainwright ($9MM). Those two pitchers, plus Jaime Garcia (first time arbitration eligible), Kyle Lohse ($11.9MM salary), Jake Westbrook ($8.5MM) and Pujols would cost over $70MM in 2012 unless Pujols deferred an unexpectedly large amount of money. 
Throw in Yadier Molina ($7MM option), Matt Holliday ($17MM) and Colby Rasmus (first time arbitration eligible) and the payroll is already approaching $100MM, or more than the organization has spent in any year since Pujols arrived in St. Louis. Most teams that commit $100MM to a rotation and four position players end up cutting corners in other areas and the Cardinals would be no exception. They wouldn't have much room for luxuries when filling out their lineup and assembling their bullpen and bench.
The 'pen, which will see Ryan Franklin, Brian Tallet and Trever Miller hit free agency after the season, and the infield, which includes no sure things other than Pujols, would probably have to be constructed on the cheap if the Cardinals re-sign Pujols.
If the Cardinals continue to balk at Pujols' asking price, this won't be an issue. They'll lose him to free agency and find another first baseman. Though replacing Pujols is impossible, the Cardinals front office will have to make major adjustments in 2012 barring a substantial payroll increase or an unexpected trade. Mozeliak & Co. will face an immense challenge if Pujols leaves, but the challenge doesn't disappear if he stays.
Photo courtesy of Icon SMI.