The Blue Jays appear to be interested in Kevin Slowey and he makes a certain amount of sense for the Jays, who don't have established starters at the back of their rotation. But acquiring Slowey would mean Jo-Jo Reyes, Jesse Litsch, Marc Rzepczynski, Kyle Drabek, Zach Stewart, Brad Mills and Scott Richmond compete for a single rotation spot. That possibility may not appeal to Blue Jays executives, since the front office appears to like its current options.
GM Alex Anthopoulos recently told Sportsnet.ca's Shi Davidi that Litsch looked "very, very good" while pitching against the Braves in his most recent exhibition start. Litsch, who is coming back form elbow and hip injuries, reminded the GM of another soft-tossing right-hander.
"The one thing I've always said is when Jesse's been healthy, he's been very productive," Anthopoulos told Davidi. "He's not Shaun Marcum, they're not the same style, but he certainly has a chance for the results to be similar in terms of win totals and innings pitched."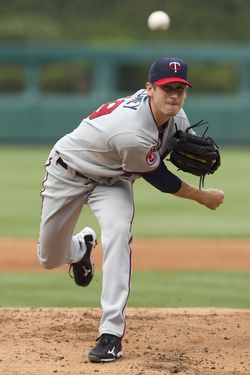 Like Marcum and Litsch, Slowey (pictured) averages less than 90 mph on his fastball and has never appeared in an All-Star game or collected a Cy Young vote. Despite his modest fastball, he was deceptively effective last year, when he posted a 4.45 ERA with 6.7 K/9 and 1.7 BB/9 in 28 starts (155 2/3 innings) for the Twins. In fact, Slowey tied Phil Hughes, Trevor Cahill and James Shields with 2.2 WAR last year, ranking 36th among AL starters.
Every starting pitcher in baseball who logged at least 100 innings last year posted a higher ground ball rate than Slowey, so he doesn't appear to be a natural fit for the homer-friendly Rogers Centre. However, Marcum and Brandon Morrow both succeeded in 2010, even though both pitchers induced more fly balls than ground balls. That should provide some hope that Slowey and his 28.3% ground ball rate could survive in Toronto.
Slowey's relatively cheap ($2.7MM salary) and he's under team control through 2013, but acquiring him could prevent top-rated prospect Kyle Drabek from continuing to develop in the major leagues. Drabek, who tops Baseball America's list of Blue Jays prospects, pitched well in a three start cameo last fall and the 23-year-old may be ready for the majors. The same goes for #5 prospect Zach Stewart and Reyes, a favorite of Anthopoulos' who is a trade candidate now that he's out of options. 
There's more to the Blue Jays' rotation battle than WAR or any other stat. The team presumably wants to determine which arms can thrive in the AL East as it prepares for what Anthopoulos says will be an extended period of contention. The Blue Jays could get creative – we shouldn't put that past them given the trades they've made in the last year – and acquire Slowey without blocking their top young arms. He's a potential upgrade for the Blue Jays, but he's not a fit for their ballpark and it appears that acquiring him would limit the Blue Jays' ability to expose their prospects to big league hitters in 2011.
Photo courtesy Icon SMI.