The Braves are next in our Offseason In Review series.
Major League/International Signings
Notable Minor League Signings
Extensions
Trades and Claims
Notable Losses
Summary
The Braves' winter kicked off with the October hiring of Fredi Gonzalez as manager.  GM Frank Wren's ensuing offseason was one of the game's best, as he was able to avoid a soaring free agent market and trade for a star player at a discount.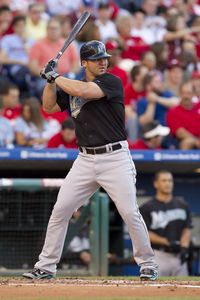 Uggla's acquisition price and the Marlins' willingness to trade him within the division surprised me.  The Braves came out smelling like roses, giving up one year of a good utility player and a hard-throwing but wild reliever.  Uggla (pictured) seems to boost the Braves' offense more than most available left fielders would have.  However, adding four years and $52MM for Uggla doesn't seem like much of a discount compared to his expected free agent contract.  Had he not been extended, Uggla might have been looking at an additional $5-9MM over the 2011-15 seasons.
The Braves lost Rafael Soriano and Mike Gonzalez from their pen in the previous offseason and signed Wagner and Saito as replacements.  Those two have since departed as well.  The Braves continued the veteran reliever cycle for just $3.2MM for Sherrill and Linebrink, also retaining arbitration eligible Scott Proctor for $750K.  All three represent cases of buying low, but even if they don't bounce back the Braves will have a full season of Craig Kimbrel and other holdovers like Jonny Venters, Peter Moylan, and Eric O'Flaherty.  The organization's power arms in the minors accentuate the fact that only secondary bullpen additions were needed.
I liked several of Wren's smaller moves this offseason.  He retained Hinske without adding a second year.  Lopez, who pitched 200 innings last year, adds rotation depth on a minor league deal.  Mather is a good athlete who figures to make the team as an extra outfielder.
Because of the depth they've accumulated, the Braves were able to avoid the high end of the free agent market for first basemen, starting pitchers, and relievers.  The club's rotation depth should take them far, and with many good young pitchers pushing toward the Majors they may even have a surplus soon.  The Braves may be exposed in left and center field if Prado has to fill in for Chipper Jones at third base for an extended period of time.  I expect Wren to be active on the trade market if the outfield does become a concern.
Ben Nicholson-Smith contributed to this post.  Photo courtesy of Icon SMI.