The Orioles are next in our Offseason In Review series.
Major League/International Signings
Kevin Gregg, RP: two years, $10MM.  Includes $6MM vesting option for 2013.
Vladimir Guerrero, DH: one year, $8MM.  $3MM of salary deferred without interest, paid 2016-17.
Derrek Lee, 1B: one year, $7.25MM.
Koji Uehara, RP: one year, $3MM.  Includes vesting option for 2012.
Jeremy Accardo, RP: one year, $1.08MM.  Can be controlled for 2012 as an arbitration eligible player.
Total spend: $31.53MM.
Notable Minor League Signings
Trades and Claims
Notable Losses
Summary
A year ago, the Orioles committed over $30MM to short-term veteran acquisitions while also surrendering the 53rd overall draft pick to the Braves.  President of baseball operations Andy MacPhail took a similar approach this offseason, adding more to the payroll but keeping his draft picks.  Is the Orioles' strategy good for the long-term health of the franchise?
MacPhail's dealings mostly improved the team for 2011, though Reynolds, Gregg, and Accardo will be under control for the 2012 season.  The big question is, why is MacPhail trying so hard to improve the 2011 Orioles?  Is it an attempt to energize the fan base?  I'm not sure these players will increase attendance significantly.  Is it for the veteran leadership?  That can be acquired more affordably.  Is it because MacPhail truly views the Orioles as contenders?  The O's don't have nearly enough starting pitching to make contention seem realistic.
One school of thought is that the money spent this offseason would be better put toward the draft and Latin America, as ESPN's Keith Law suggested in a discussion with MASN's Steve Melewski.  In the team's defense, they already rank fourth in MLB in draft spending over the last three years.  They haven't been aggressive in Latin America, but a lower big league payroll might not change that. 
The signings of Gregg, Uehara, and Accardo may at least help the Orioles' young pitching staff.  Only the Gregg signing could be considered excessive.  The Blue Jays valued one draft pick more than having Gregg (or his trade value) at one year and $4.5MM or two years and $8.75MM.  The Orioles again took the plunge on a pricey reliever, even with Mike Gonzalez still on the roster as a reminder.  All multiyear free agent reliever deals are risky, but the gamble makes more sense for contending teams.  MacPhail may have felt the need to bolster the bullpen after the subtraction of David Hernandez, who was excellent in relief last year and under team control through 2015.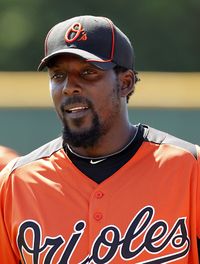 The Orioles' offense is looking strong with the additions of Reynolds, Hardy, Lee, and Guerrero, assuming they stay healthy.  Of course, the bar is extremely low given last year's output of 3.78 runs per game.  The price for these four players was far from franchise-crippling, but there is concern the veterans will take at-bats from younger guys.  Nolan Reimold and Josh Bell have something to prove in Triple-A, however, and I think the Orioles will make room if they start raking. 
You'd like to see a few of the newly-added veterans flipped for interesting prospects at the trade deadline, though MacPhail wasn't able to cash in Garrett Atkins, Kevin Millwood, and Ty Wigginton last year.  He's added superior players for 2011, so I think there's a better chance this time around.
This is an improved Orioles team, but to what end?  Some need to see a tangible benefit before endorsing significant short-term veteran commitments for a rebuilding club.  The Orioles might argue, what's the downside?  If the short-term additions don't adversely affect the farm system or the development of young players, the Orioles' strategy can at least be considered neutral for the long-term health of the franchise regardless of the team's record in 2011.  I expect to hear a lot of intangibles as support for MacPhail's offseason, while the more analytically-minded will focus on whether the Orioles are able to trade veterans for prospects in July. 
Photo courtesy of Icon SMI.