The Yankees are next in our Offseason In Review series.
Major League Signings
Notable Minor League Signings
International Signings
Juan Carlos Paniagua, Yadil Mujica, Freiter Marte, Wilmer Romero


Trades and Claims
Notable Losses
Summary
Only the Yankees can spend $130MM on free agents and have it seem like they didn't do much during the offseason.  Cliff Lee spurned the team's huge offer, but they were able to retain future Hall of Famers Jeter and Rivera while improving the bullpen.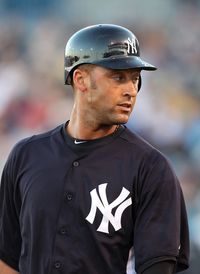 The Yankees ended up paying about twice what Jeter is probably worth in a strictly baseball sense, after a few unnecessary verbal jabs from both sides.  I don't have a problem with it; they can afford to overpay, and they didn't have a superior alternative at shortstop.  The price to keep Rivera was steep as well, yet he remains among the game's best relievers into his 40s.  Perhaps the Yankees found it reassuring that multiple teams were willing to offer Rivera three guaranteed years, which suggests they weren't forced to overpay just for being the Yankees.
The mystery team actually signed Lee, with the Phillies inking him to a five-year, $120MM deal in mid-December. At $148MM over seven years, the Yankees offered Lee more guaranteed money than the Rangers or Phillies.  Still, the Phillies seemingly offered the biggest salary at $24MM a year.  Had the Yankees extended themselves to $150MM over six years, they might have gotten their man – even if they represented his second or third choice.  With Pettitte's status an unknown at the time, going the extra mile for Lee still would have been the right move.  The Yankees cannot buy or trade for high-quality starting pitching if it just isn't there, and I'm not convinced this year's trade market will feature even a #2-type starter.
Carl Crawford and Jayson Werth were already off the board by the time Lee signed, and Adrian Beltre would have been an even tougher fit, so there weren't any big names left for the Yankees to pursue.  The starting pitching market was especially bleak at that point, but credit GM Brian Cashman for setting aside a potential fan backlash and exploring a reunion with Carl Pavano.
Cashman chose not to pursue Zack Greinke, who secretly met with the GM during the Winter Meetings to try to convince him he'd thrive in New York.  Jon Heyman's article implies Cashman bowed out mainly because he thought Greinke wasn't a good fit with the club, rather than balking at the Royals' asking price.  If true, it's interesting that Cashman felt Greinke was a bad fit but Pavano was a good one, but of course the stakes were higher with Greinke. 
Assuming a Matt Garza trade would have made both the Rays and Yankees uneasy, Cashman was out of options on starting pitching.  His plan at that point was apparently to toss a mere $14MM at complementary pieces Feliciano, Martin, and Jones.  There's something to be said for committing two years to Feliciano instead of three, and the Yankees will need a strong bullpen if their fourth and fifth starters consistently fail to go deep into games.  Even if Cashman wasn't on board, the Soriano signing certainly gives the team a much stronger bullpen.  The dual opt-outs are the smallest concern with that contract, which I explained in a separate post.
The Yankees' minor league signings include former big names Chavez, Colon, Garcia, Millwood, and Prior.  There are spring indications that several of them can have positive contributions for the big league club in 2011.  The main goal may be to wring a couple of good months out of the rotation candidates.
Most likely we'll hear the Yankees connected to every starting pitcher with a pulse throughout the season, after which the team's rotation could be further depleted if C.C. Sabathia opts out.  Problem is, it's hard to identify even one front-end starter who projects to be available in July.  The Yankees may need one or two of their in-house starters to exceed expectations if they are to go deep into the playoffs this year.
Photo courtesy of Icon SMI.