It's no secret that the A's have extended starting pitchers aggressively over the course of the past decade. Oakland GM Billy Beane says it's a blueprint for success for teams with limited revenue and he has put that theory to the test. Tim Hudson, Barry Zito, Mark Mulder, Dan Haren, Rich Harden, Brett Anderson and, now, Trevor Cahill have all signed long-term deals early on in their MLB careers.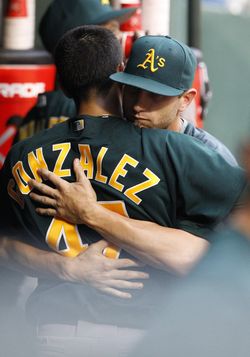 Naturally, fans, reporters and players themselves are wondering which starter is next in line for an extension. It could be Dallas Braden, author of a perfect game and many a memorable quote. It could be Gio Gonzalez, the promising left-hander who reached the 200 inning plateau last year, posting a 3.23 ERA with 171 strikeouts. Or, for a while at least, it could be no one at all.
Technically speaking, Braden and Gonzalez (both pictured) aren't under contract beyond 2011. The urge to extend them and solidify the rotation for the foreseeable future is understandable. In a way, the Athletics' current rotation is a successor to the big three of Hudson, Zito and Mulder. Locking a number of starters up before free agency seems like the logical course of action for a team like the A's, which embraces these extensions. 
But in practice, Braden and Gonzalez are A's property through at least 2013 even though they don't have formal extensions. Braden is under control for 2012-13 (estimated $14.5MM total cost through arbitration) and Gonzalez is under control for 2012-15 (estimated $26MM total cost through arbitration). 
Essentially the A's have two club options for Braden and four club options for Gonzalez without guaranteeing either pitcher a dime beyond 2011. Beane can release or non-tender either starter at his convenience if he determines they're no longer worth what they'd make through arbitration. As is usually the case with players who have yet to hit free agency, the team has most of the power.
There are potential advantages to signing Braden or Gonzalez to an extension. Long-term deals cap arbitration earnings, often provide the team with extremely valuable options for free agent years and allow the players to focus on performing, rather than earning. 
At some point, however the risks associated with extensions outweigh those advantages. Extensions usually provide players with guaranteed money through their arbitration years, instead of rewarding them according to their performance. As a result, the deals can backfire when players get injured or perform poorly.
The A's could emerge with more team-friendly contracts by signing Braden or Gonzalez to the right long-term deal. But they are no doubt aware that there's no pressing need for extensions, since their rotation is already under long-term control.
Photo courtesy Icon SMI.