Now that the Athletics and Trevor Cahill have reportedly agreed to a multiyear deal, young players like Daric Barton, Gio Gonzalez, and Andrew Bailey could be next in line for extensions, according to Susan Slusser of the San Francisco Chronicle. MLBTR's Tim Dierkes previewed a Barton extension last month, so let's have a look at what it might take to lock up Gonzalez, another key member of the A's rotation.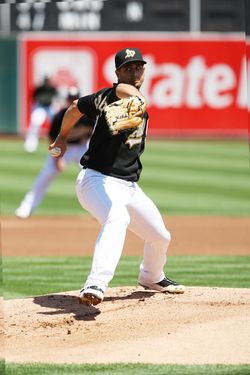 As I wrote last fall when I examined the possibility of a new contract for Cahill, Billy Beane and the A's have an extensive history of signing young pitchers to multiyear deals rather than going to arbitration. MLBTR's Transaction Tracker shows that Tim Hudson, Barry Zito, Rich Harden, Dan Haren, and Brett Anderson all inked contracts for at least four years early in their careers. When dealing with their top arms, the A's appear to believe the opportunity to save a few million dollars by avoiding arb is worth the risk of injury or regression. With Anderson already locked up, and Cahill on the verge, Gonzalez might be next.
One could argue, based on his excellent 2010 campaign, that the Oakland southpaw belongs in the same discussion as Jon Lester, Yovani Gallardo, and Ricky Romero, who each signed five-year deals worth approximately $30MM. However, due to some struggles in his first two years with the A's (6.24 ERA in 132 2/3 IP), Gonzalez's career ratios, such as a 4.29 ERA and 4.7 BB/9, don't compare well to the numbers those pitchers had posted when they signed.
Of course, while Gonzalez's career stats give the A's some leverage in negotiations, time is not on the club's side. Off to a fast start in 2011, the 25-year-old seems only to be getting better, which means his value could continue to rise throughout the season if the A's wait on a deal. Additionally, Gonzalez is set to become a Super Two player, meaning 2012 will be the first of four, rather than three, arbitration years.
Gonzalez's career totals may slightly hurt his bottom line on a potential extension, but his recent performance will ensure he won't come cheap. Once the figures for Cahill's deal surface, we should get a better idea of what sort of dollar amount it would take to secure Gonzalez's arb seasons. If the ACES client stays healthy and continue to improve, he could eventually earn more than $25MM through arbitration, so I'd expect the A's to explore something in the neighborhood of $20MM for those four years.