Just about anything could happen between Memorial Day and the beginning of November, when the Tigers have to decide whether to exercise their $9MM option for Jose Valverde. Injuries, trades and the performance of other Detroit relievers could affect the Tigers' willingness to commit to another year of Valverde, so consider this an early and imprecise look at the closer's option.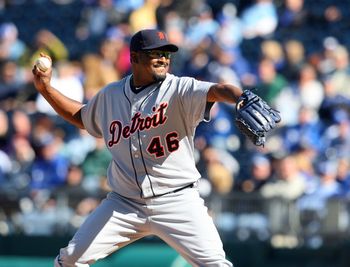 What's unlikely to change for the 33-year-old is his profile as a hard-throwing right-hander who strikes lots of people out, allows more than his share of walks and works in and out of jams for saves. Since becoming Arizona's full-time closer in 2007, that's essentially what Valverde has offered and it doesn't figure to change in the next five months.
So far in 2011, Valverde has a 3.52 ERA (3.53 xFIP) with 12 saves, 9.0 K/9 and 3.9 BB/9.  His fastball has averaged 94 mph and he has a 41.3 % ground ball rate through 23 frames.
Those are respectable numbers, but they're not enough to command $30MM-plus on the open market, as Rafael Soriano and Mariano Rivera did last offseason. Valverde compares better with the likes of Kevin Gregg, Bobby Jenks and J.J. Putz, who signed two-year deals in the $10-12MM range last year.
Those contracts are worth $5-6MM per season, which makes $9MM seem like a lot for one year of Valverde (unlike most club options this one has no buyout). Plus, there will be even more selection than usual for teams seeking relief this winter, because there's a deep class of free agent relievers.
Yet it seems unlikely that the Tigers will shy away from Valverde's option if they believe he's the best option for them. GM Dave Dombrowski, who's in a contract year of his own, has shown that he's willing to move quickly to secure the players he wants, even if it means spending aggressively. 
Last offseason, for example, he signed Joaquin Benoit in mid-November instead of waiting for bargains. That particular deal hasn't worked out to this point, but it shows that Dombrowski tends to pursue the players he wants, instead of waiting the market out for bargains (Dombrowski also locked Jhonny Peralta, Brandon Inge and Victor Martinez by Thanksgiving). 
There's no question that $9MM is on the steep side for one season of relief pitching. Plus, the Tigers could potentially obtain draft picks by turning down the option, offering arbitration and allowing Valverde to sign elsewhere. For a team that has given up its share of high draft picks in recent years, collecting an extra pick or two would likely have appeal. 
As a result, the Tigers don't figure to keep Valverde around for $9MM unless they're convinced in his ability to perform at an elite level in 2012. But if the Tigers decide he's the person they want in high-leverage situations next year, it's hard to imagine that an inflated salary would prevent them from keeping their closer for another season.
Photo courtesy Icon SMI.