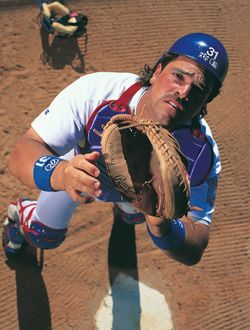 With the amateur draft coming up in just over three weeks, we've spent most of our time here at MLBTR covering the first round. Quality players come from every round though, and there's perhaps no more famous example of a late-round pick turning into gold than Mike Piazza. The Dodgers selected him in the 62nd round of the 1988 draft as a favor to Tommy Lasorda, who was a friend of the Piazza family and godfather to Mike's brother Tommy.
Piazza moved from first base to catcher in the minor leagues at Lasorda's behest, and he hit his way to the big leagues less than four years later. After a brief cup of coffee in 1992, Piazza opened the 1993 season as the Dodgers' starting catcher, and hit a robust .318/.370/.561 with 35 homers as a 24-year-old. He won the Rookie of the Year award unanimously, and finished ninth in the MVP voting.
Over the next four seasons, Piazza hit .342/.409/.590 with an average of 33 homers per year, being named to the All-Star team and winning the Silver Slugger Award each year. He never finished lower than sixth in the MVP voting during that time, finishing as the runner up in 1996 (Ken Caminiti) and 1997 (Larry Walker). Piazza was a star of the first order, but contractual issues began to surface.
Scheduled to become a free agent after the 1998 season, talks about a contract extension between Piazza and the Dodgers went nowhere. Furthermore, Peter O'Malley and Terry Seidler were in the process of selling the team to FOX. Afraid that they were going to lose their star to free agency and not have anything to show for it, Los Angeles took a drastic step.
Thirteen years ago today, the Marlins and Dodgers pulled off a seven-player swap that sent Piazza and Todd Zeile to Florida in exchange for Gary Sheffield, Charles Johnson, Bobby Bonilla, Jim Eisenreich, and Manuel Barrios. To say the trade wasn't well-received in Southern California would be an understatement.
Piazza's time with the Marlins as short lived, very short lived in fact. He had five hits in five games with them before being traded to the Mets for Preston Wilson, Ed Yarnall, and Geoff Goetz. Piazza spent parts of eight years with the Mets before moving to the Padres and Athletics late in his career. He retired as a .308/.377/.545 career hitter with 427 home runs to his credit, unquestionably the best hitting catcher in baseball history (min. 1,000 games caught).
We see players traded right before reached free agency every season, but it's not often a player of Piazza's caliber is involved, and he was traded twice in one week.
Photo courtesy of Icon SMI.