John Farrell inherited a vastly different offense than the one that clubbed a league-leading 257 home runs for Cito Gaston in 2010. Vernon Wells, John Buck and Lyle Overbay are gone and newcomers Rajai Davis (pictured), Corey Patterson and Juan Rivera now have prominent roles on the team. Before the season, the new Blue Jays manager explained his vision of a more complete offense, one that would feature players zipping from base to base instead of waiting for their chance to break into a home run trot.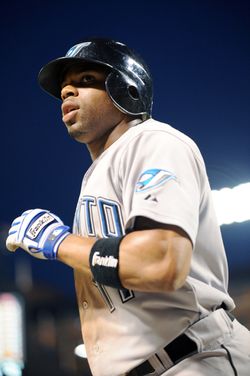 "I would like us to become a much more aggressive team on the basepaths," Farrell said in January. "That doesn't mean we're going to try to make Jose Molina a base stealer. But it does mean that there are opportunities where we can turn guys loose."
And turn them loose he did. Even Molina has a pair of steals and Toronto has already stolen more bases than it did during the entire 2010 season. The increase is largely because of Davis, the slumping speedster who has attempted to steal 26 of the 50 times he has been on with an open base ahead of him. Unfortunately for Farrell, Davis has only succeeded 18 times (69%) and his running mate, Patterson, is only 11 for 17 (65%).
As a unit, Blue Jays baserunners are succeeding at a lower rate than they did under Gaston, though they've already eclipsed last year's stolen base total. The team's success rate has dropped from 74% to 71% in the early going, but the Jays have been successful in another department: taking the extra base. As the table below shows, Blue Jays baserunners have been more aggressive, taking extra bases on plays they showed more caution on under Gaston.
For example, the Blue Jays scored from first on a double 33 times last year. Led by Jose Bautista, who has scored four of the five times he has been on first for a teammate's two-base hit, the Jays have already scored from first on a double 22 times under Farrell. 

But Bautista's success running the bases is mitigated by the fact that he has already been picked off three times. In fact, Farrell's aggressive approach has led to 13 pickoffs so far, just one shy of the team's 2010 total.
Despite the pickoffs, Bautista has been Toronto's most effective baserunner this year, according to UBR, a stat that measures a player's impact on the bases (not including attempted steals). Still, Farrell has known all along that home runs are an essential weapon for his right fielder and for his entire offense. 
"We're going to play to that strength," Farrell said. "But in preparing against this team [as an opponent], it was one that seemed to be one-dimensional and a little predictable."
The numbers suggest the Blue Jays were among the worst teams baserunning teams in baseball last year. But after placing 27th in MLB with a -11.1 UBR in 2010, they're fifth in baseball with +4.4 UBR this season. In other words, the Jays are on a pace to add a win on the basepaths this year, after losing a win on the bases last year.
Farrell still finds himself looking for a 'spark' and the offense will remain something of a work in progress until Aaron Hill and Travis Snider find their strokes and Brett Lawrie's wrist is healthy.  There's no denying that the Blue Jays' offense is sputtering at the moment – they've scored only three runs in their past four games – but the group has generally been productive. Only six MLB teams have scored more runs than Toronto this year and the offense is above average thanks in part to Farrell's aggressive baserunning.
Photo courtesy Icon SMI.