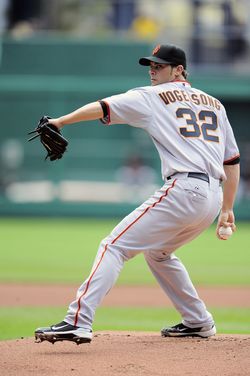 It's been almost exactly 13 years since Ryan Vogelsong signed his first contract. A fifth round selection by the Giants in 1998, Vogelsong signed on June 7 that year and began his professional career. After posting strong strikeout numbers throughout his first three minor league seasons, Vogelsong was included in a package that sent Jason Schmidt from Pittsburgh to San Francisco in 2001.
After making two appearances with the Pirates that season, Vogelsong required Tommy John surgery at age 24. Things went downhill from there, to say the least. He returned in 2003 and posted passable numbers in the minors, but struggled in the Majors that season and through his next three with the Pirates, posting a 5.87 ERA over 274 1/3 innings of work.
Following the 2006 season, Vogelsong, then 29, headed to Japan and spent three years there, pitching for the Hanshin Tigers and Orix Buffaloes with solid but unspectacular results. After coming back to the United States, he was released by both the Phillies and Angels last year after signing a pair of minor league deals.
Vogelsong didn't get his own post on MLBTR when he signed a minor league deal with the Giants this offseason. In fact, he didn't even have his own tag prior to this one. But what Vogelsong has done this year is a prime example of the value of minor league deals.
Over his last 39 1/3 innings of work, Vogelsong has allowed three earned runs, striking out 29 and walking only seven. In total, he's pitched 53 2/3 innings of 1.68 ERA ball. His 2.83 FIP and 3.64 xFIP entering play today suggest that while he hasn't been quite that good, he's still been very, very good. His fastball may not be overpowering (averaging 91.1mph), but he's mixed his pitches well enough to have struck out seven hitters per nine innings. The 42 strikeouts he's totaled are three times that of the 14 walks he's allowed.
Earlier today Andrew Baggarly of the San Jose Mercury News wrote that manager Bruce Bochy said Vogelsong's rotation spot is secure, even when Barry Zito, for whom he's been filling in, returns. And, as Baggarly points out, it's not unreasonable to consider an All-Star bid for the journeyman.
Whether or not Vogelsong continues what's been a remarkable run at age 33, he should still serve as a reminder to all fans who cringe at seeing a perhaps washed-up name sign with their favorite team. Minor league deals and non-roster invites carry very little risk, but the potential for reward is sky-high. Just ask Ryan Vogelsong.
Photo courtesy of Icon SMI.