The organization that sent C.C. Sabathia and Cliff Lee packing in high-profile summer trades is about to acquire an ace of its own. The Indians and Rockies have agreed on a deal that will send Ubaldo Jimenez to Cleveland for Joe Gardner, Alex White, Matt McBride and a player to be named, the teams announced. The deal, which will apparently include left-hander Drew Pomeranz once he's eligible to be traded in mid-August, became official today when Jimenez passed his physical.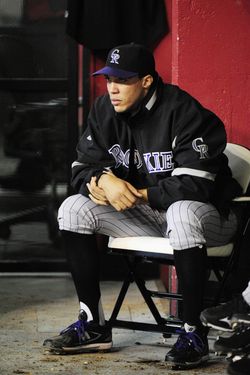 Jimenez, 27, has a 4.20 ERA with 8.6 K/9, 3.5 BB/9 and a 46.8% ground ball rate midway through an up and down season that has included flashes of brilliance, stretches of poor performance and a stint on the disabled list with a cuticle cut on the right-hander's thumb. The third place finisher in last year's Cy Young voting, Jimenez broke out in 2010, posting a 2.88 ERA with 8.7 K/9 and 3.7 BB/9 in 221 2/3 innings.
Some of Jimenez's value comes from a contract that now seems team-friendly. Jimenez earns $2.8MM this year and $4.2MM in 2012. His contract includes a $5.75MM club option ($1MM buyout) for 2013 and an $8MM club option for 2014 ($1MM buyout), however Jimenez will be able to void that 2014 option with the trade.
GM Dan O'Dowd, who signed Jimenez to his extension, spent a decade in the Indians' front office from 1988-1998, working his way up to assistant GM before moving on to Colorado. He maintained throughout the negotiations that he would have to be overwhelmed to make a deal and said he'd turn down offers unless someone approached him with a Herschel Walker-type deal.
Pomeranz appears to be the key to the trade for Colorado, however the fifth overall pick in the 2010 draft can not officially be traded until August 15th. He will have to be a player to be named later until then. The 22-year-old southpaw has a 1.98 ERA in 91 innings this year, most coming with Cleveland's High-A squad. Baseball America ranked him as the 14th best prospect in the game earlier this month.
White was the 15th overall pick in the 2009 draft, and he made his big league debut earlier this season. He made three starts before being placed on the disabled list with a strained finger ligament, pitching to a 3.60 ERA. White is still on the disabled list but can be traded. He was considered the 47th best prospect in the game by Baseball America before the season.
Unlike Pomeranz and White, McBride was not a first round pick. He was a second rounder in 2006, and Baseball America did not rank him among the Tribe's top 30 prospects in their Prospect Handbook before the season. The 26-year-old has hit .279/.339/.501 in 393 plate appearances this year, most coming with Cleveland's Double-A affiliate.
Gardner, 23, was a third round selection in 2009. The right-hander has a 4.99 ERA with 5.5 K/9 and 4.3 BB/9 in 97 1/3 innings as a starter in his first stint at Double-A.
Troy Renck of the Denver Post broke the news on Twitter and Paul Hoynes of the Cleveland Plain Dealer and Jon Heyman of SI.com added detail. Mike Axisa contributed to this post. Photo courtesy Icon SMI.