Talk of draft pick compensation, club options and future salaries is valid after any trade, including the one the Diamondbacks just made with the Blue Jays. But the D'Backs didn't make this move with an eye on future seasons or drafts.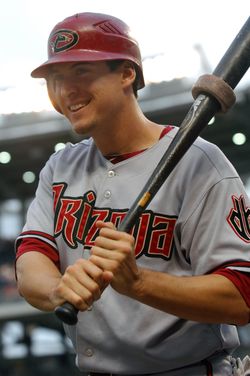 "This deal was really made with a focus on 'how do we get better for the next five weeks and stay ahead of the Giants'," GM Kevin Towers explained this evening on a conference call with reporters.
Ever since Stephen Drew's season ended, the D'Backs have been short-handed up the middle. They wanted to rely on Willie Bloomquist less, so Towers and the Blue Jays discussed Aaron Hill, someone the D'Backs have been eyeing for a while. The second baseman isn't having much of a season at the plate, but Towers says his power could return against National League pitching. 
"We're hoping that a change of scenery can not only spark our club, but spark these two guys," Towers said, referring to Hill and John McDonald. 
Even if Chase Field doesn't coax extra base power out of Hill, who has a 36-homer season to his name, Towers won't mind. The deal, which included the versatile McDonald, was about defense. Though Towers didn't express disappointment in Kelly Johnson's defense, he did say he's looking forward to adding the pair of former Blue Jays to his infield.
Hill has two $8MM team options for 2012-13, yet they aren't a major consideration for the D'Backs at this point at this point. It was "doubtful" that Johnson (pictured) would have returned after 2012, according to Towers, so the D'Backs were willing to part with him for Hill, regardless of whether Hill returns to Arizona in 2012. 
That Hill and McDonald strike out less than Johnson (132 Ks this year) is a bonus for Towers, who has been looking to reduce Arizona's strikeout totals since last year. Plus, they're two "great guys" who drew personal praise from Diamondbacks people and others in baseball. 
For the two nice guys to finish first, the D'Backs will have to maintain their current one-game lead over the defending World Champion Giants. Arizona could even obtain more help this month, since Towers may not be done dealing yet. 
"We'll keep working the phone lines until the end," he said.
Photo courtesy Icon SMI.