In theory, the Yankees' negotiations with Derek Jeter could have provided a model for the Phillies, whose star shortstop hits free agency this offseason. Jimmy Rollins is a longtime fixture in Philadelphia, so there are definite parallels between him and Jeter, who signed a three-year $51MM deal with the Yankees in December. But given how publicly contentious those negotiations became, it's not easy to imagine the Phillies following the Yankees' example.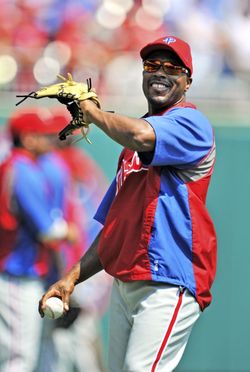 Instead, the Phillies could look to lock Rollins up during the five day period after the World Series, when they'll have exclusive rights to him, wait and bid for his services against other teams, or let him walk (likely with an offer of arbitration and the expectation that he would decline). Rollins may not be an MVP candidate anymore, but he's a valuable enough player that he should draw lots of interest this offseason if the Phillies let him reach the open market.
That said, he won't be the premier available shortstop. That honor goes to Jose Reyes, who could ask for Carl Crawford money. The rest of the market includes Rafael Furcal, Jamey Carroll, Clint Barmes and others, though Rollins will likely be the most appealing option once Reyes signs.
There's a lot to like about Rollins, who turns 33 after the season. He has a .264/.337/.399 line with 13 home runs and 24 stolen bases this year.  Only six shortstops (Reyes, Troy Tulowitzki, Yunel Escobar, Jhonny Peralta, Asdrubal Cabrera and Alexei Ramirez) have more wins above replacement than Rollins this year and Jeter is the only shortstop with more WAR since 2000, when Rollins broke into the league, according to FanGraphs.
Rollins also has three Gold Gloves on his mantle and the stats suggest he has earned his hardware. UZR says he is an above-average defender in 2011 and has been for nine consecutive seasons.
However, Rollins' on-base average was just .296 in 2009 and only .320 in 2010, so there has to be some concern about his ability to reach base, despite his solid .337 mark so far in 2011. Since the Phillies will presumably offer arbitration and Rollins projects as a Type A free agent, he'll cost any team other than Philadelphia a top draft pick.
He figures to surpass the three-year, $22.25MM deal J.J. Hardy signed last month, but it's hard to imagine a deal worth more than Jeter's $51MM. Rollins is worth more to the Phillies than any other team because of his history in Philadelphia, just as Jeter means more to the Yankees than he would to any other club. That doesn't mean the Phillies are going to hand their shortstop a blank check, however. If Rollins does stay in Philadelphia, it's not hard to imagine the sides agreeing to a three-year deal in the $30MM range.