MLB teams made what's arguarbly the riskiest investment in baseball 17 times last offseason, signing free agent relief pitchers to multiyear deals. Not surprisingly, many of the deals haven't worked out, but that won't stop baseball's owners from handing out another round of generous contracts to the relievers who hit the open market this offseason.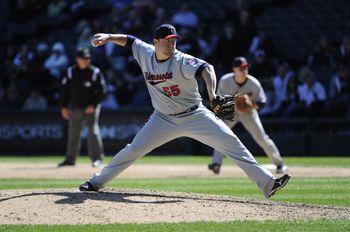 Relievers like Matt Capps, who are mere months away from free agency, have every reason to wonder if they'll be among the beneficiaries of teams' never-ending search for bullpen stability. Unfortunately for Capps (and the Twins), his numbers have fallen off in 2011, so his case for a multiyear deal isn't as strong as it would have been last year.
The 27-year-old is striking out far fewer hitters this year (4.5 K/9, 12.3 K%) than in 2010 (7.3 K/9, 19.3 K%). Capps' average fastball velocity has dropped from 94 mph to 92.8 mph and opposing hitters are making more contact than they did a year ago. When they do make contact, it's much less likely to be a ground ball now (38.8% ground ball rate) than it was in 2010 (49.8% ground ball rate). The right-hander's ERA now sits at 4.34 (4.27 xFIP), about two runs higher than last year's 2.47 mark (3.31 xFIP). 
To his credit, Capps has cut down on walks (1.2 BB/9) compared to last year (2.1 BB/9), but that doesn't make the warning signs disappear. The market for relievers who are losing fastball velocity, inducing fewer ground balls and generating fewer swings and misses doesn't tend to be strong.
It's a lot for the Twins to take into account when deciding whether to offer arbitration this offseason. Capps projects as a Type A free agent, so Minnesota could theoretically obtain two top draft choices by offering arbitration if he declines the offer and signs elsewhere.
But would any team surrender a high draft choice for the right to sign Capps? And, perhaps more to the point, wouldn't Capps' representatives at Wasserman Media Group recommend that their client accept an offer of arbitration? After all, Capps earns $7.15MM this season and would earn a raise by accepting arbitration.
All of this makes it seem unlikely that Capps will obtain an arbitration offer from the Twins, so it's hard to imagine him hitting the market tied to draft pick compensation. All Capps will cost is cash and owners have shown a willingness to overpay for serviceable relievers before. If he obtains multiyear security on the open market despite his decline in performance, he won't be the first reliever to profit from baseball's over-eager owners.
Photo courtesy Icon SMI.