Typically when you take on most of one of the worst contracts in baseball, you don't have to give up anything of value.  However, the Angels did just that by including catcher/first baseman Mike Napoli in their January trade with Toronto for outfielder Vernon Wells.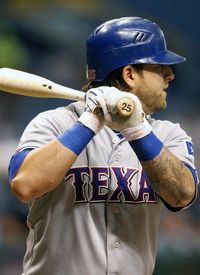 The Halos probably weren't keen on paying Napoli $5.8MM in 2011.  They were never big on his work behind the plate, and at the time of the trade probably expected first baseman Kendrys Morales to be ready for Spring Training.  The Angels were committed to Bobby Abreu and understandably wanted to move him to DH, another role Napoli can fill.  Still, even at the time, it seemed plausible that the Angels would have found Napoli 400 plate appearances at his various spots.   He'd hit 20+ home runs for three consecutive years, and it's surprising the Angels felt they could spare the power bat.  Even if the Angels were dead set on acquiring Wells, I doubt Napoli was a requirement for the Blue Jays.
The Angels failed to get value for Napoli, but the Jays didn't consider him an ideal fit either.  In theory, Napoli could have complemented Adam Lind at first base, backed up J.P. Arencibia behind the plate, and filled in at DH for Edwin Encarnacion or Juan Rivera when needed.  Perhaps if the Blue Jays had found an immediate taker for Rivera, they would have kept Napoli.
Instead, Napoli was quickly sent to the Rangers for reliever Frank Francisco and less than $1MM in cash.  The Rangers were perhaps the worst fit for Napoli of the three teams, as they had Yorvit Torrealba and Matt Treanor behind the plate, Mitch Moreland and Chris Davis as first base options, and Michael Young to DH and rove around the infield.  Acquired as a bench player in January, Napoli has started all but nine of his 77 games to date with Texas (he missed almost a month with an oblique strain).  
It's only been 285 plate appearances, but Napoli has flourished with the Rangers, hitting .290/.386/.592 with 19 home runs.  His chance of being tendered a contract after the '11 season was once in doubt, but now seems like a lock.  Depending on how many plate appearances he ends up with, a salary approaching $8MM for 2012 is possible for Napoli.  Unlike the Angels and Blue Jays, the Rangers are happy to have him.
Photo courtesy of Icon SMI.