When the Blue Jays committed $30.1MM to Ricky Romero last August, he had just 52 MLB starts to his name. But the Toronto front office was less concerned about his relative inexperience than the reality that pitchers' throwing arms are often fragile.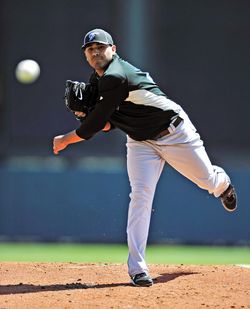 "I think the risks are pretty obvious with health," GM Alex Anthopoulos said last August 14th. "You're always concerned with respect to health."
In the year and two weeks since Romero signed his five-year extension, he has logged 238 innings, including 181 this year. When the left-hander looks back at the first year of the deal, he evaluates himself on his ability to stay on the field.
"Oh yeah, I think it's health," he said, crediting Toronto's training staff. "That's the big thing for anyone – to stay healthy. That's the biggest concern – if you're going to be able to last the whole season and not break down."
If Romero (pictured) looked at the stat sheet, he'd find himself in the top ten in the American League in ERA (4th, 2.78), but he doesn't evaluate himself on ERA, wins, xFIP or any statistic other than innings pitched.
"No, not at all," he said. "For me I take pride in just going out there and giving my team a chance to win and racking up innings. If I do that and have quality outings? I'm good with that. I feel like I've done that this year."
The numbers confirm that Romero has been effective. He has a 3.13 ERA with 7.4 K/9 and 3.6 BB/9 in 238 innings since finalizing the deal, which set a record for pitchers with less than two full years of MLB service. At the time of the extension, the Jays were willing to enter unchartered territory with the 2005 first rounder since they looked forward to seeing him develop into their ace.
"We see a guy like Ricky continuing to improve," Anthopoulos said last year. "We think he's going to be an innings eater, we think he's going to be a horse. We think he's going to continue to evolve."
Jon Lester and Yovani Gallardo, whose extensions figured prominently into the Blue Jays' deal with Romero, have both taken steps forward since signing their respective contracts. Like the Blue Jays, the Red Sox and Brewers are getting what they paid for – and then some. Despite the similarities between his career and theirs, Romero doesn't watch Lester and Gallardo any more attentively than he watches others.
"Whenever they're on TV or there are highlights of them, yeah I'll watch," Romero said. "But I like watching baseball highlights period. It doesn't matter who it is. I don't pay any extra attention to them. They're both great pitchers and having good years too."
Romero's extension won't expire before 2015 (the Blue Jays have a club option for 2016), so they have reason to look well beyond 2011. Though there are no guarantees in baseball, especially for pitchers, Romero says his arm feels as good as ever.
"I'm feeling great," he said. "I think as the season goes on I continue to get stronger and that's what you're looking for."
Photo courtesy Icon SMI.