If a team signs a pitcher to an extension and he becomes an Opening Day starter, the club has an indication that the deal is going well. It's too early on in the extensions for Jon Lester, Yovani Gallardo and Ricky Romero to call them successes or failures, because none of the extensions expire before 2013. But all three starters will pitch this Opening Day, a sign that the deals are going well for the teams so far.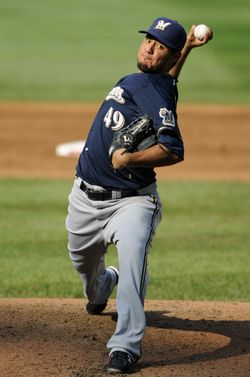 The three extensions, signed within 18 months of one another between March, 2009 and August, 2010, are all for five years with a club option for a sixth year and are all valued within the narrow $30-30.1MM range. 
The pitchers signed similar extensions because they were on statistically similar career paths before finalizing the deals. And fortunately for the Red Sox, Brewers and Blue Jays, the pitchers have performed just as well – maybe even better – since accepting their clubs' multi-million dollar offers.
Lester, the first to sign, has been one of the best left-handed pitchers in the game since 2009 (WAR says Cliff Lee is the only lefty who pitched better in '09-'10). In 411 1/3 innings (64 starts) since signing, Lester has posted a 3.33 ERA with 9.8 K/9 and 3.2 BB/9.
Gallardo, the lone right-hander in the group, signed last April, a year after the Red Sox locked Lester up. Since the ink dried on his deal with Milwaukee, Gallardo (pictured) has logged 178 innings (30 starts) and posted a 3.84 ERA with 9.9 K/9 and 3.7 BB/9.
Romero broke out last year, posting a 3.73 ERA in 210 innings. That prompted the Blue Jays to lock him up in August, so he has made just nine starts since signing his deal. The 26-year-old posted respectable numbers over the final month and a half of the season: a 4.26 ERA with 6.6 K/9 and 4.3 BB/9.
The trio has stayed healthy and effective so far, but with three to five years remaining on the deals, there's ample time for the extensions to backfire. All three teams were willing to take that risk when they offered tens of millions to the promising pitchers and, at least so far, the investments have paid off.
Photo courtesy Icon SMI.