I would say the Cubs have no chance of unloading combustible righty Carlos Zambrano this offseason, but the Vernon Wells trade showed that even the game's worst contracts can be moved.  The big difference there: Wells was coming off a solid 31 home run season and doesn't come with clubhouse baggage.
Cubs GM Jim Hendry has been through this once before, ditching a little bit of Milton Bradley's contract and actually getting some value out of Carlos Silva in 2010.  There was no way the Cubs weren't going to dump Bradley that offseason, and it's possible their thinking is the same regarding Zambrano.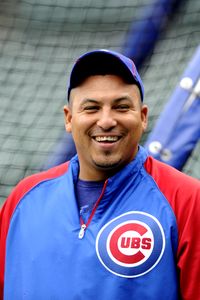 We don't need to run through Zambrano's history; suffice it to say that he has big-time negative trade value.  Contract and attitude aside, Zambrano the 30-year-old pitcher still has some use at the back end of a rotation.  He's consistently posted SIERAs in the 4.30 range, something for which plenty of teams pay around $4MM.  However, teams signing the Kevin Correias of the world are hoping for innings, which Zambrano has not provided lately.  And unlike most back-end starters signed on the free agent market, Zambrano has the potential to be a clubhouse distraction.
That's why Zambrano cleared waivers even before his latest incident: he has major negative trade value.  He could only be dealt for a player the other team wants nothing to do with, and the Cubs would have to send money or take a bad contract to match up with his $18MM salary for 2012.  Here are 11 trade ideas, assuming Z is willing to waive his no-trade clause without compensation.
Zambrano and $12.5MM to Astros for Brandon Lyon.  The reliever had bicep surgery in June and is out for the season.  If the Astros are unsure about his 2012 outlook and would prefer to add Zambrano to the back end of their rotation without paying any additional money, this could work.
Zambrano and $12.5MM to Blue Jays for Mark Teahen.  The Cubs could attempt to use Teahen as a supersub next year.  But to Toronto, does Zambrano offer any advantage to Teahen?
Zambrano and $2MM to the Dodgers for Juan Uribe.  If the Dodgers are having buyer's remorse on Uribe, this could be a way to wash their hands of the deal after 2012 instead of '13.  But since Uribe still has some positive value, the Cubs would have to add a player or additional money.
Zambrano to Giants for Barry Zito and $46MM.  I'm putting this here because the idea is a favorite of many Cubs fans and was even tossed out there by ESPN's Buster Olney today.  Let's think this through though, because it makes little sense for either side given the huge contract difference.  The Cubs would exchange one year of a problem veteran pitcher for three?  Releasing Zambrano would be simpler.  From their point of view the Giants would have to send even more money to compensate for having to have Zito through '13.  And on the Giants' side, would they really want to be free of Zito so badly that they'd send another team over $40MM to make him go away?
Zambrano and $6MM to the Giants for Aaron Rowand.  This, I can see, because the Giants might like to keep the money a wash and at least have the chance of getting some back-end innings out of Zambrano next year.  If not, they could release him as they might Rowand.  Plus, the years match up.
Zambrano and $1MM to the Mariners for Chone Figgins.  I can also picture this trade, as the money is very similar and Hendry and Jack Zduriencik swapped problems before.  Figgins is under contract for an extra year, but the Cubs could release him if things don't work out.
Zambrano to Orioles for Brian Roberts.  Roberts is owed $2MM more than Z, but he may still have value if his concussion symptons go away.  Plus, he was once a target of Hendry's.  However, former Cubs exec Andy MacPhail isn't expected to be in charge of the O's this offseason, and in general Zambrano is just a headache compared to whatever Roberts might give them.
Zambrano and $8MM to Red Sox for Daisuke Matsuzaka.  In the best case, Dice-K might be able to provide a couple of months of post-Tommy John innings next year, so maybe Boston would prefer to try Zambrano in some capacity instead.
Zambrano to White Sox for Alex Rios and $20MM.  The White Sox would reduce the years of their burden if not the money, while the Cubs could pray Rios bounces back next year or else cut him loose.
Zambrano to White Sox for Adam Dunn and $26MM.  The problem with both White Sox scenarios is that it's hard to see them sending so much money across town.  Whereas from the Cubs' point of view, they'd probably just release Zambrano rather than increase the commitment.  That said, Dunn makes sense for the Cubs at first base next year if the money is a wash.
Zambrano to Yankees for A.J. Burnett and $15MM.  $15MM would even out the money, but since Burnett probably has more value as a pitcher than Zambrano, the Yanks would probably either want to send a lot less or just keep the better pitcher.  We could play this game with Rafael Soriano too, but the Yankees would need a bigger gain than just Zambrano and a financial wash.
Bottom line: a few of these scenarios are feasible, with the best ones involving the least amount of money being sent and the Cubs getting a truly low-value player in return.
Photo courtesy of Icon SMI.