About three months ago, it sure seemed like it was time for the Blue Jays to give up on Edwin Encarnacion. He wasn't hitting and he certainly couldn't handle third base. At the beginning of June, he had a season line of .247/.270/.349 and given that he had committed eight errors in just 16 starts at third, it wasn't enough.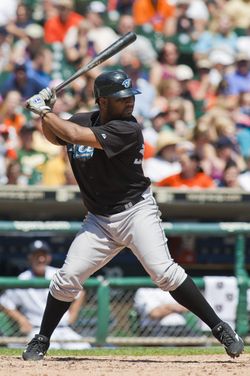 Since then, Encarnacion has been one of the most productive hitters in Toronto's lineup. He has a .292/.368/.530 line with 14 homers in what amounts to a half season's worth of playing time. It's the kind of production GM Alex Anthopoulos envisioned when he re-signed Encarnacion last winter and it could be enough for the Blue Jays to bring the 28-year-old back in 2012.
Before the season, Anthopoulos liked Encarnacion enough to suggest he had "one more gear in there" and a shot at a 30-homer season. Encarnacion won't reach 30 homers, but he did show the Jays that he's capable of raising his game.
Every player, including Albert Pujols, goes through bad months. But two-month long slumps can't be written off; they're part of a player's season. So when the Blue Jays decide whether Encarnacion's worth $3MM and a roster spot next year ($3.5MM option, $500K buyout), they'll consider his entire year. 
With four weeks to go, Encarnacion has a .276/.335/.466 season line. He hasn't appeared at third since July and even though he plays first semi-regularly, he's essentially a designated hitter. The average DH has a .265/.340/.429 line this year, so Encarnacion boasts above-average power for the position despite his modest total of 15 home runs.
Encarnacion has established himself as a powerful, positionless player who's especially productive against left-handers. It's not far off of the Marcus Thames prototype, but Encarnacion has probably earned himself another shot in Toronto with these past three months. 
For a net cost of $3MM I expect the Blue Jays to exercise the option (especially since he doesn't project as a ranked free agent). At worst, Encarnacion becomes a bench weapon against left-handed pitching. At best, he keeps producing the way he has since June and remains a bargain DH for another year.
Photo courtesy Icon SMI.