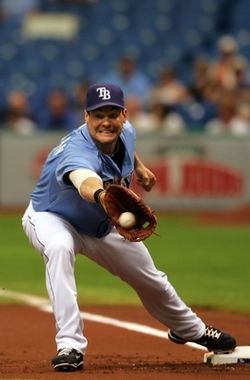 The Rays signed a middle of the order hitter last offseason, but it wasn't Manny Ramirez. After just five games with Tampa, Manny abruptly retired rather than face a second suspension for testing positive for a banned substance. The Rays filled Ramirez's roster spot by promoting Casey Kotchman from Triple-A, and five months later, he's the middle of the order bat the team thought it was getting in Manny.
Kotchman, still just 28, has stepped in and hit .312/.380/.429 in 487 plate appearances since being promoted. He isn't hitting for much power (just eight homers), but he's drawing walks (42) and putting the ball in play (55) while providing his usual strong defense. After years of struggling against left-handers, Kotchman is hitting a respectable .300/.336/.367 against southpaws this season. 
There are reasons to believe that the improved performance is unsustainable, however. Kotchman's batting average on balls in play (.341) is the highest of his career (by far) even though there's been no significant change in his batted ball profile. More than half of the balls he puts in play are hit on the ground, just a quarter are fly balls, and fewer than one in five is a line drive. It could work, but it hasn't for him in the past.
Low power first baseman usually aren't in high demand on the free agent market, especially ones with the proverbial "one good year." That said, Kotchman could be a nice, budget friendly alternative to stopgap first basemen like Derrek Lee, Lyle Overbay, and Carlos Pena. The Diamondbacks, Pirates, and Dodgers could all be looking for help at first this winter, and of course re-signing with the Rays is always a possibility as well.
Photo courtesy of Icon SMI.