Anyone still wondering if the Miami Marlins are serious about making a splash this offseason?  The Marlins officially signed star shortstop Jose Reyes to a six-year, $106MM deal today.  Reyes will receive a heavily backloaded $102MM over six guaranteed years, and has a $4MM buyout on a seventh year option worth $22MM.  The backloaded nature of the deal could serve as a no-trade clause, something the deal does not include.  Reyes is represented by Peter E. Greenberg & Associates.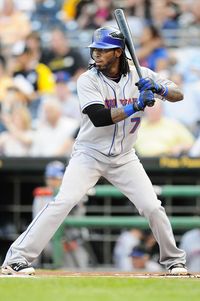 As a free agent shortstop in his prime, Reyes was a rarity.  The 28-year-old had one of the finest seasons of his nine-year Mets career in 2011, winning his first batting title and posting the fourth season in which he was worth about six wins above replacement.  Mets owner Fred Wilpon famously told a reporter in April that Reyes wouldn't get Carl Crawford money, and while Reyes fell one year and $36MM short of that benchmark, he did join Crawford as just baseball's second $100MM player without a 20 home run season on his resume.  Reyes' contract was depressed by his injury history, as he hasn't played 135 games in a season since '08.  I still like the deal for the Marlins, as Reyes doesn't have to be amazing or play 162 games a year to be worth $17.67MM annually.
The signing means that the Marlins will ask Hanley Ramirez to move to third base, an idea that may not thrill him.
The Mets were willing to offer Reyes a five-year deal for $75-85MM with a sixth year option, but felt that they could not push their offer any further, according to Joel Sherman of the New York Post (via Twitter).  At today's press conference, Reyes suggested the Mets never made an offer.  GM Sandy Alderson made the decision not to trade Reyes this summer partly because he hoped to re-sign the team's longtime shortstop.  The new collective bargaining agreement did not affect Reyes' status as a Type A free agent, and the Mets will receive the Marlins' third-round pick as well as a supplemental pick in the 2012 draft for their loss (unless the Marlins sign C.J. Wilson or Albert Pujols, among others).  It appears that although the Marlins did not give their second-round pick to the Padres for Heath Bell, Bell's higher Elias ranking still pushes the Mets' pick to the third round.  In addition to the Mets, the Brewers were expected to be in on the 28-year-old and had planned to meet with his agents this week.  
Armed with deeper pockets and the appeal of a brand new ballpark, the Marlins have been aggressive in their courtship of top free agents this winter.  They signed closer Heath Bell a few days ago, have an offer out to C.J. Wilson, and remain in the mix for Mark Buehrle and even Albert Pujols.
Ken Rosenthal of FOX Sports broke news of the agreement and the absence of a no-trade clause, ESPN's Jayson Stark added contract deals, Enrique Rojas of ESPNDeportesLosAngeles.com first reported the length of the offer, and other details were also provided by Jon Heyman of Sports Illustrated and Joel Sherman of the New York Post.  Tim Dierkes contributed to this post.  Photo courtesy of Icon SMI.