The Phillies signed Jimmy Rollins to a deal that will keep the shortstop in Philadelphia, though not for as the length he was said to be seeking.  The deal will pay Rollins $33MM over the next three years with an $11MM fourth year vesting option based on plate appearances. If the option doesn't vest, it can become a team option at $8MM or a player option at $5MM.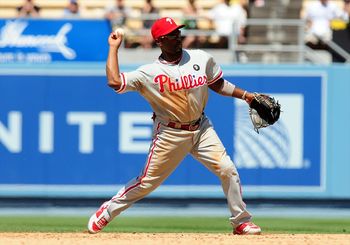 Rollins, a lifelong Phillie, has seen his production tail off since his 30-30 MVP season in 2007, but he rebounded to bat .268/.338/.399 last season with 16 homers and 30 stolen bases. His defense has remained a positive even through his age-32 season, according to UZR.
Rollins, ranked seventh on MLBTR's Top 50 Free Agent list, entered the offseason in search of a five-year contract.  The Brewers were among the leading suitors for the 33-year-old's services but officially pulled themselves out of the sweepstakes when they gave a three-year, $36MM deal to third baseman Aramis Ramirez.  Even without Ramirez, Milwaukee's signing of Alex Gonzalez was widely interpreted as a signal that they would not pursue J-Roll any further.
The Cardinals were also candidates to land Rollins after Albert Pujols signed with the Angels, but they had little interest in giving Rollins the five-year pact that he was asking for.  Instead, St. Louis decided to ink Rafael Furcal to a two-year deal worth roughly $14MM.  Ultimately, the market pushed the shortstop and the Phillies back together.  At the start of this winter, seven of our eight writers predicted a Phillies for the Icon Sports Group client.
ESPN's Jerry Crasnick (via Twitter) first reported that the Phillies and Rollins agreed to a three-year deal with a vesting fourth year option.  Jim Salisbury of CSNPhilly.com (via Twitter) added that the dela would be worth $33MM over three years while Yahoo's Tim Brown (Twitter link) reported that the fourth year option would be worth $11MM.  Ken Rosenthal of FOX Sports tweeted that the fourth year option would be easily attainable.
Photo courtesy of Chris Williams/Icon SMI.