THURSDAY: The deal is official, Marc Topkin of the St. Petersburg Times (Twitter links). Scott will earn $5MM in 2012, and the club option is worth $6MM with a $1MM buyout. The Tampa Tribune reports (on Twitter) that the contract also includes bonuses placed on plate appearances.
WEDNESDAY: The Rays have reached an agreement with designated hitter Luke Scott on a one-year deal with a 2013 option, reports Dan Connolly of the Baltimore Sun.  Marc Topkin of the St. Petersburg Times was first to report the near-agreement, and he notes that it includes incentives.  Scott is represented by PSI Sports Management.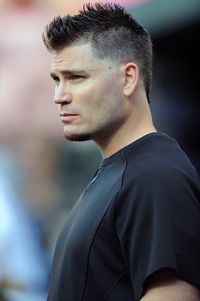 Scott, 33, hit .220/.301/.402 in 236 plate appearances in 2011, his season cut short by July shoulder surgery.  The Orioles non-tendered him last month rather than pay a salary in the range of 2011's $6.4MM figure.  Scott told Topkin he expects to primarily serve as the Rays' DH, with some time at first base.  If his shoulder is fully recovered, perhaps he can return to the .500 slugging percentage-type power he's shown in the past.  The Rays are closest to Scott's Florida home, notes Connolly.
Scott is a late bloomer, having burst onto the scene with a strong half-season for the Astros at age 28 in '06.  After the '07 campaign, he was dealt to the Orioles as part of the Miguel Tejada trade.  Scott has drawn plenty of attention off the field, particularly after interviews with David Brown of Yahoo and Amy K. Nelson of ESPN.
Photo courtesy of Icon SMI.