Prince Fielder, who hit baseballs out of Tiger Stadium as a 12-year-old, is on his way back to Detroit, where his father, Cecil Fielder, starred for seven years. The Tigers have officially agreed to sign the free agent first baseman to a nine-year, $214MM contract.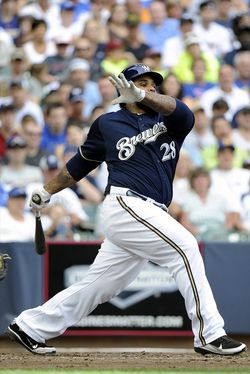 The agreement — the fourth largest in baseball history behind Alex Rodriguez's mega-contracts and Albert Pujols' recent deal with the Angels — will keep Fielder in the Motor City through his age 36 season for an average annual value of $23.78MM. It doesn't include any opt-outs, Jim Bowden of MLB Network Radio and ESPN.com tweets.
Though the market for Fielder seemed far from robust at times this offseason, agent Scott Boras has found an unexpected suitor once again. Over the years, Tigers owner Mike Ilitch and GM Dave Dombrowski have dealt extensively with Boras regarding clients such as Kenny Rogers, Ivan Rodriguez, Johnny Damon and Magglio Ordonez.
Fielder will play first base and Miguel Cabrera will change roles, Jon Heyman of CBSSports.com tweets. Victor Martinez will miss most or all of the 2012 season with a torn ACL, so it's possible that Cabrera will DH this year. He has only played 14 games at third base since being traded to Detroit after the 2007 season, but a return to the hot corner seems to be a possibility for Cabrera. 
Danny Knobler of CBSSports.com suggests a return to third base is likely for Cabrera and Jon Paul Morosi of FOX Sports hears that Cabrera was "really excited" about the Tigers' new addition (Twitter links).
Fielder's considered a below average defender at first base, but he's a force at the plate. He posted a .299/.415/.566 line with 38 home runs in 2011, finishing in the top five in MVP balloting for the third time in the past five seasons. He has a .282/.390/.540 line in seven seasons in Milwaukee, where he averaged 37 home runs per 162 games played. Concerns about Fielder's stocky physique do exist, but Boras defended his client's build at the December Winter Meetings.
"Everyone talks to me about Prince's body, but when you have that 5'11" strike zone, that is a huge advantage and that's why that on-base percentage is sitting there," he said. "Those pitchers have to put the ball into a smaller window and I believe that it's more difficult to do."
This June the Tigers will surrender their first round pick (27th overall) to the Brewers, who offered Fielder arbitration earlier in the offseason. Milwaukee will also obtain a second compensatory pick for losing Fielder, the seventh overall selection in the 2002 draft. Fielder is among the Brewers' all-time leaders in many offensive categories, including home runs (230), on-base percentage (.390), sluggling percentage (.540) and walks (566).
Cecil Fielder, whose off-and-on relationship with his son has been well-documented, hit 245 home runs in a Tigers uniform, good for fifth on the franchise's all-time list. The elder Fielder led the American League in home runs in 1990 with 51 and in 1991 with 44.
When MLBTR polled readers in mid-December, just 5.6% of 27,000 respondents expected Fielder to sign a nine or ten-year deal. He ranked second on MLBTR's list of top free agents this offseason, trailing only Pujols.
The deal figures to provide lots of leverage for Joey Votto, who will hit free agency after the 2013 season if the Reds don't extend him first. On the other hand, free agent designated hitters such as Johnny Damon, Hideki Matsui, Raul Ibanez and Vladimir Guerrero lost a potential suitor this afternoon.
Heyman tweets that the Nationals and a third mystery team were in on Fielder until the end. Heyman first reported the agreement on Twitter and Yahoo's Tim Brown first reported that the sides were close to a deal. 
Photo courtesy Icon SMI.