With Prince Fielder and Albert Pujols off of the market, Joey Votto is officially the next MVP-caliber first baseman scheduled to hit free agency. The 28-year-old will become available two years from now, after the 2013 season, and if he continues producing, he'll obtain a mega-contract of his own.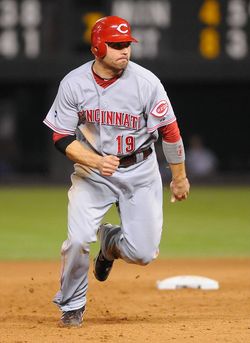 Talk of a Brandon Phillips extension has persisted throughout much of the Reds' offseason, but Votto, who signed a three-year deal just 12 months ago, is a candidate for a long-term deal of his own. The Reds are poised for a big year after acquiring Mat Latos, Ryan Madson and Sean Marshall, and may prefer to wait until after the season to explore a new contract for the first baseman.
If and when they do discuss a deal, there's no indication the Reds are going to get a hometown discount from Votto. The Etobicoke, Ontario native finds himself well-positioned for a nine-figure contract. In the past five years, six first basemen have signed deals worth at least $100MM, and those contracts, which are listed below in chronological order, provide a frame of reference for agent Dan Lozano and Reds general manager Walt Jocketty:
Back in November, before Pujols and Fielder signed, Ken Rosenthal reported that Reds CEO Bob Castellini appears to believe an extension for Votto is possible. Talks haven't begun yet, according to Jocketty. The GM told John Fay of the Cincinnati Enquirer yesterday that he hopes to keep Votto in Cincinnati for "a while." The Reds haven't had a payroll over $81MM since hiring Jocketty and if accommodating Votto's salary in 2012, when he earns $9.5MM, or in 2013, when he earns $17MM, seems difficult, then buying out his free agent years surely will, too.
Securing free agent years from the first basemen above cost a minimum average annual value of $21MM. Cabrera and Howard were two years away from free agency when they signed their contracts and Gonzalez was one year away when he signed his, but they didn't have to sign at a discount. Neither will Votto. 
If the Reds wanted to lock the 2010 NL MVP up now, I expect it would cost at least seven additional years for $23MM or so per season. Adding a $161MM commitment to the $26.5MM on Votto's current contract would keep Votto in Cincinnati through his age 36 season — the same age through which Gonzalez, Fielder, Howard and Teixeira are under contract.  
An extension for Votto would be an immense investment for a small-market team such as the Reds, but there's a dearth of power on the free agent market and the power bats who do become available get paid. In an offseason when the Yankees, Mets, Red Sox and Dodgers weren't serious bidders for first basemen, Pujols and Fielder signed the third and fourth largest contracts in MLB history. Votto would seem to be next in line for a nine-figure free agent payday, so the Reds will have to spend big — probably $160MM-plus — to keep him in place.
Photo courtesy Icon SMI.