The Yankees have signed Hiroki Kuroda to a one-year contract, the team announced.  Jack Curry of the YES Network first reported the agreement (Twitter link).  The deal will pay Kuroda $10MM, tweets ESPN's Buster Olney.  Kuroda is represented by the Octagon agency.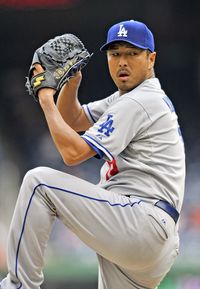 Kuroda was originally looking for a one-year deal worth $13-$14MM for next season, but recently dropped his asking price and was sending feelers out to the Yankees and Red Sox.  Olney reports that Kuroda's salary was an "extra expenditure" approved by ownership, so the club will not have to move a similar salary in order to fit the team's payroll.
Kuroda turns 37 in February and comes to the American League after four years of pitching for the Dodgers.  Kuroda has pitched at least 183 innings in three of his four years in the Majors and his career numbers include a 3.45 ERA, a 3.29 K/BB ratio and a 48.6% ground ball rate that should ease his transition from Dodger Stadium to Yankee Stadium.  (Kuroda's career home/away splits are also virtually identical.)
Between Kuroda and the newly-acquired Michael Pineda, a once-shaky Yankees pitching staff has been overhauled and improved in just one day.  C.C. Sabathia, Pineda, Kuroda and Ivan Nova project as the top four, with Phil Hughes, A.J. Burnett and Freddy Garcia fighting for the fifth spot in the rotation.
Photo courtesy of Icon SMI.