The Athletics' one-year, $1MM base salary deal with righty Brandon McCarthy turned out to be one of the best contracts of the 2010-11 offseason, as the 28-year-old went on to rank 13th in the American League with a 3.32 ERA.  McCarthy showed an ability to go deep into games, ranking 10th in the league with 6.83 innings per start.  Despite having fewer than 550 career big league innings on his resume, McCarthy will reach six years of service this season.  It's been a long road to traditional free agency.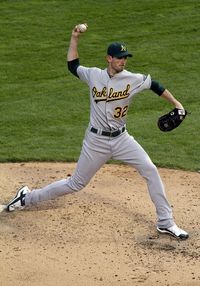 Prior to the 2005 season, Baseball America ranked McCarthy the 49th-best prospect in the game, though on the White Sox he was outranked by Brian Anderson and Ryan Sweeney.  In February of that year, manager Ozzie Guillen compared McCarthy to Jack McDowell, adding, "He's going to be something special."  By May, McCarthy made his big league debut, replacing an injured Orlando Hernandez to face Mark Prior.  McCarthy continued to fill in for El Duque periodically as a rookie, but the Sox went with Hernandez on the playoff roster and he came up big as a reliever in the team's World Championship run.
McCarthy spent most of '06 in Chicago's bullpen, and GM Kenny Williams noted he was "very much a part of our future" when July trade rumors swirled.  It seemed McCarthy finally had his full-time rotation spot when Williams traded Freddy Garcia to the Phillies in December of that year, but then the GM shipped McCarthy to the Rangers for John Danks and others in a bold trade a few weeks later.
A blister problem affected McCarthy for much of '07, but a bigger concern was revealed in August when he hit the DL for a stress fracture in his right shoulder.  The injury seemed minor at first, but then elbow soreness surfaced the following spring.  He pitched only 53 2/3 innings in '08 and was sidelined again in each of the '09 and '10 seasons due to the stress fracture in his shoulder.  By November of 2010, Rangers GM Jon Daniels decided to remove McCarthy from the 40-man roster, making him a free agent.
Toward the end of '09, McCarthy began to consider major changes to his repertoire and mechanics, he told Ryan Campbell of FanGraphs.  By the time he was pitching in Winter Ball in what amounted to a free agent audition in 2010, McCarthy had fine-tuned his new approach.  He scored a Major League contract with the A's and won their fifth starter job out of spring training.  That same shoulder stress reaction came back in May, leading to a six-week DL stint.  McCarthy stayed healthy and effective thereafter, earning a total of $1.95MM with incentives.  He received a $4.275MM contract for 2012, an arbitration raise of more than $2.3MM on his '11 earnings.
McCarthy has been a free agent before, but if he impresses again in 2012, this time will be different.  To date, it does not appear the A's have had extension talks with McCarthy.  Their hesitation is understandable, with McCarthy having totaled 229 pro innings from 2008-10.  He hasn't had an injury-free campaign since '06, and the same shoulder problem continues to affect him.
Still, there's a ton to like about McCarthy, who in 25 starts provided over $20MM worth of value last year according to FanGraphs.  Even with the DL stint last year, he tossed 170 2/3 innings over 25 starts.  He's 28 and comes with the pedigree of a top prospect.  He's got excellent command and posted a career-best 46.7% groundball rate last year, suppressing career-long home run concerns.  And for those thinking his success is owed to the Oakland Coliseum, consider McCarthy's 3.40 xFIP away from home last year.
In terms of starting pitchers extended entering walk years, Ryan Vogelsong, R.A. Dickey, Wandy Rodriguez, and Joe Blanton could be comparables, as our extension tracker shows.  Vogelsong and Dickey were feel-good stories who had unexpected success in one season, and both signed two-year deals in the $8MM range with club options attached.  Both, however, were coming off seasons in which they earned under a million bucks.  McCarthy earned almost $2MM last year, and makes $4.275MM this year.  Short of a completely lost 2012 season, he could at least replicate that salary on the free agent market.  He may not feel the urgency to cash in that Vogelsong and Dickey did.  
Blanton and Rodriguez had provided innings and made decent money going year-to-year through arbitration.  Blanton, the lesser of the two, had his free agent years valued at $8.5MM apiece.  I don't think McCarthy can get to that level right now, but he's probably worth more than Vogelsong, who gave up a free agent year for $5MM.  $12-13MM over two years would be a reasonable risk for the A's on McCarthy, if they're OK with the condition of his shoulder.  Otherwise, McCarthy will be pitching with free agency on the horizon and the possibility of becoming one of several solid options for teams unable to afford what's left of Cole Hamels, Matt Cain, Zack Greinke, and Anibal Sanchez.
Photo courtesy of Icon SMI.