The Nationals have been one of baseball's most active teams this offseason, signing both Edwin Jackson and Brad Lidge in addition to trading for and extending Gio Gonzalez. GM Mike Rizzo doesn't have to worry about the top of his rotation for a while since Gonzalez and Stephen Strasburg are under control through 2016, but another one of the club's young starters can hit the open market a year earlier.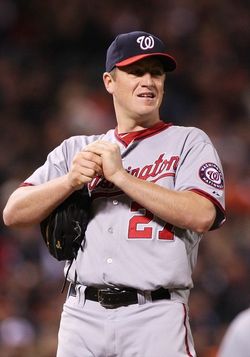 Jordan Zimmermann qualified as a Super Two by little more than a week this offseason, meaning he'll be eligible for arbitration four times instead of the usual three. The two sides agreed to a $2.3MM salary for 2012 as our Arbitration Tracker shows, working out a deal before salary figures had to be exchanged. The 25-year-old right-hander broke out last season, pitching to a 3.18 ERA with 6.9 K/9 and 1.7 BB/9 with a 39.4% ground ball rate in 161 1/3 innings across 26 starts. His 8-11 record doesn't do his actual performance justice.
Although he has nearly three full years of service time, Zimmermann only has about a year and a half worth of big league starts to his credit. He missed part of 2009 and most of 2010 due to Tommy John surgery, but players do collect service time while on the DL. The injury and subsequent lack of innings kept his salary down this winter, and that will have a trickle down effect in future years since he's starting with a lower base salary.
As our Extension Tracker shows, the typical extension for pitchers with 2-3 years of service time has been in the four-year, $30MM range with one or two club options that buy out free agent years. Jon Lester, Yovani Gallardo, Ricky Romero, Clay Buchholz, Trevor Cahill, and Jaime Garcia all signed contracts with that framework. Zimmermann lags behind those guys in counting stats like innings and wins due to the elbow surgery, though his strikeout and walk rates match up with any of them at the time of their extensions. ERA as well.
A four-year deal for Zimmermann figures to check in a bit under $30MM given his injury history, so perhaps $22-25MM or so. That would cover his four arbitration years, and the club options could come in around the usual $10-12MM based on those similar pitchers. Zimmermann and the Nationals are in a unique position because his salaries are depressed by his elbow surgery, and the team could take advantage of that by signing him long-term at an even further reduced rate.
Photo courtesy of Icon SMI.