The Braves took their offseason inactivity to a new level this winter.
Major League Signings
Notable Minor League Signings
Trades and Claims
Notable Losses
The Braves made the first trade of the offseason, shipping Lowe to the Indians in the name of saving $5MM.  Facing a relatively large arbitration tab, GM Frank Wren had limited flexibility even after that salary dump and a payroll increase.  He entertained trade offers for veterans Jair Jurrjens and Martin Prado, but ultimately held onto both players.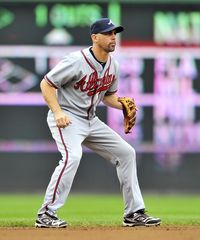 There was a case for offering Gonzalez arbitration, but perhaps the Braves didn't feel a possible supplemental draft pick was worth risking a potential $4MM salary for a player they no longer wanted as their everyday shortstop.  Gonzalez signed with the Brewers, and Wren chose Wilson (pictured) as his "traditional backup shortstop" behind rookie Tyler Pastornicky.  As Bill Ballew of Baseball America points out, Wren has had success aggressively using rookies as regulars before with Freddie Freeman and Jason Heyward.  Pastornicky is not that level of prospect, though, and I wonder if a bid for Marco Scutaro or Jamey Carroll would have offered more security than Wilson (who, incidentally, will start the season on the DL).
The league's best bullpen included 316 innings from Jonny Venters, Craig Kimbrel, Eric O'Flaherty, and Cristhian Martinez in 2011, and in October Wren cited Martinez, Anthony Varvaro, and Kris Medlen as reasons bullpen depth was not a concern.  The Braves lost veterans Linebrink and Sherrill to free agency, after the duo provided 90 1/3 innings of 3.39 ball.  A lot of teams would have spent a few million dollars to replace them, but I agree that the Braves still have plenty of bullpen depth.
The majority of the Braves' offseason MLBTR archives involved Prado and Jurrjens trade rumors.  Reportedly, the asking price was huge: highly-regarded Rockies third base prospect Nolan Arenado in a deal involving Prado, and a Zack Greinke-like deal for Jurrjens.  If good health allows Prado to return to his 2008-10 offensive levels, keeping him rather than signing Josh Willingham, Michael Cuddyer, or Cody Ross was the right move.  The Braves poked around on trade targets Seth Smith and Adam Jones but couldn't find common ground.  I think the Jones discussions solidified that Jurrjens' stock is down as well, as last year's misleading 2.96 ERA can't disguise the fact that he started only 43 games over 2010-11.
The Braves were obviously down on Lowe after his late-season struggles.  They felt they needed the $5MM more than Lowe's innings, even though Tim Hudson is the lone remaining starter who exceeded 152 MLB innings in 2011.  Now we know Hudson will miss the first month of the season.  Somehow, the Braves' rotation still looks above-average, with Tommy Hanson, Brandon Beachy, Jurrjens, and some combination of Mike Minor, Randall Delgado, and Julio Teheran.  However, I don't see a workhorse in that group, so the bullpen may be taxed again as the season wears on.
Wren has said this team deserves another chance, despite last year's collapse down the stretch.  They've still got several of the game's best young pitchers and some All-Star caliber bats, so the team should be in contention even if they're not the preseason NL East favorite.
Photo courtesy of Icon SMI.