For all of the hype generated by Craig Kimbrel and Jonny Venters last year, it was easy to overlook the impressive numbers posted by left-hander Eric O'Flaherty in 2011.  O'Flaherty recorded 32 holds in 2011, throwing 73 2/3 innings over his 78 appearances and posting an 8.2 K/9 rate, a 3.19 K/BB ratio, and a miniscule 0.98 ERA (though, advanced metrics indicate that ERA may have been a bit lucky, as O'Flaherty had a 2.54 FIP and 3.05 xFIP).  Also, O'Flaherty stayed dominant down the stretch, while Kimbrel and Venters' respective struggles in September were big reasons why the Braves blew their lead in the NL wild card race.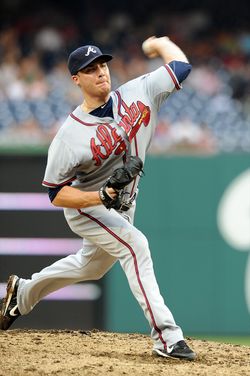 It was the best season yet for a southpaw who has thrived since Atlanta picked him up off waivers from Seattle in November 2008.  O'Flaherty has a 2.02 ERA in 174 innings as a Brave, which translated into a nice payday in his second trip through the arbitration process this winter, as O'Flaherty and the Braves agreed to a $2.49MM contract for 2012.
O'Flaherty is the first of Atlanta's big three relievers to reach arbitration, as Venters is eligible after this season and Kimbrel is eligible after 2013.  While it can be argued that the Braves should worry about those other two pitchers first, O'Flaherty's bronze-medal status within the Braves' bullpen could actually be more of a reason for the team to explore extending him; GM Frank Wren can use Kimbrel and Venters' presence as leverage to try and extract a bargain on an O'Flaherty contract.
MLBTR's Extension Tracker reveals three notable extensions for left-handed relievers over the 14 months…
Glen Perkins' three-year, $10.3MM extension with the Twins, plus a club option for 2016.  This deal covered Perkins' last arb-eligible season and his first two free agent years.  Perkins, 29, enjoyed a big season in his first year as a full-time reliever and looks to stay in the Twins' bullpen for the foreseeable future.
Sean Marshall's three-year, $16.5MM extension with the Reds that could earn him up to $4MM more in incentives.  Marshall, 29, was scheduled to hit free agency after 2012.
Marshall again, this time the two-year, $4.7MM deal he signed with the Cubs in January 2011.  This contract covered Marshall's final two years of arbitration eligibility.  
O'Flaherty just turned 27 last month, so he'll be roughly the same age as Marshall when he signed that 2011 contract with the Cubs, though O'Flaherty will be in line for a more expensive deal since he's already making $2.49MM this year.  O'Flaherty's three-year track record of stellar relief also gives him an argument that he should earn more than Perkins.
I would say that a three-year, $12MM deal would be a fair price for both O'Flaherty and the Braves.  It's notably less than Marshall's latest contract, but Marshall has pitched better than O'Flaherty over the last two seasons, plus the Reds made that deal with an eye towards Marshall likely taking over as closer should Ryan Madson leave next winter.  Here's where the Braves' leverage over O'Flaherty comes into play — whereas Marshall could close in Cincinnati and Perkins could perhaps supplant Matt Capps as Minnesota's closer, O'Flaherty will see minimal opportunity to finish games as long as Kimbrel and Venters are in the fold.  With this in mind, I can see the Braves trying to go lower with an initial offer akin to Perkins' contract before settling on the $12MM number, with incentives and maybe an option year included.
Whatever Atlanta pays O'Flaherty will set the table for what his fellow lefty Venters might look for in a contract extension, and you can bet that Kimbrel will generate an even bigger deal if he keeps up his current elite status.  Busy times lie ahead for the Braves in bullpen negotiations, so it can't hurt to get the first piece of the puzzle locked up now.  Or, with free agency awaiting after 2013, O'Flaherty might choose to forego security now and take a shot at a more lucrative closer's contract in two years.
Photo courtesy of Mark Goldman/Icon SMI