Is your bracket busted?  Try DraftStreet, where you can put together a college basketball team this week and compete against other users for real money.
Right now DraftStreet has a college basketball freeroll for MLB Trade Rumors readers, meaning you can take a shot at a chunk of the $400 prize pool for free, with no strings attached.  Here's how it works.
The March Madness freeroll begins Friday at 7:15pm eastern time, so you have until then to create your team.  You're given a $100K salary cap, and each player is assigned a price by DraftStreet.  Your roster will cover these positions: 3 forwards, 3 guards, and 2 utility players.  You get points based on how your team performs through Friday's games in points, rebounds, and assists.  The teams with the most points get the prize money.  Below is a screenshot of a sample roster: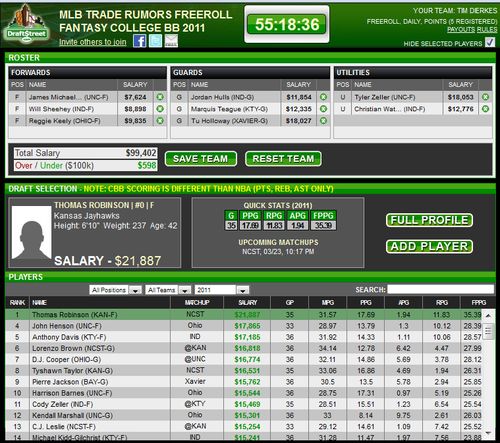 If you're interested, sign up and create a roster prior to Friday's games (7:15pm eastern time).  It's quick, easy, fun, and the MLBTR league gives you a free chance to win some of the $400 prize pool.  If you enjoy the competition you can try other leagues for free and earn credits, or deposit real money.