Surprisingly, the Rays augmented their offense through free agency.
Major League Signings
Notable Minor League Signings
Extensions
Trades and Claims
Notable Losses
For some MLB teams, Jeff Niemann, Wade Davis, Alex Torres, and Alex Cobb would all have rotation spots.  For the Rays, they rank #5-8 on the depth chart.  After fielding offers for various starting pitchers for the offseason's first few months, the Rays chose to maintain their rotation depth and simply sign a pair of free agents to bolster the offense.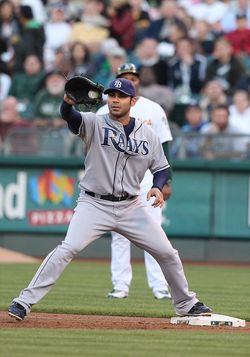 The Rays inked Pena and Scott for a total of $13.25MM in January to replace first baseman Kotchman and designated hitter Damon.  Damon didn't understand why the two positions were considered means to upgrade the offense, but the increased power potential from Pena and Scott is obvious.  The Rays can't afford to pay full sticker price for free agent power.  Pena was available on a one-year deal because he's batted .216 over the past three seasons and slugged .402 when he was last in the American League in his previous Rays stint.  Scott had been non-tendered by the Orioles after an ugly 2011 season was cut short by July shoulder surgery, and he's limited defensively.  Damon and Kotchman were far from sure things themselves, but Pena and Scott have higher offensive ceilings.
The team's unheard-of rotation depth is likely to be fully utilized in the course of the season, as most teams need seven starters in a good year.  Almost all pitchers want to remain starters as long as possible, and whether Davis or Niemann goes to the bullpen to start the season, the move will be temporary.
The Rays' bullpen needed some tinkering, and executive vice president of baseball operations Andrew Friedman made some unpredictable acquisitions in Rodney, Badenhop, and Lueke.  In the Rodney signing press release, Friedman provided a euphemism for Rodney's control issues, saying, "Fernando's pure stuff is top-notch and can beat hitters both in and out of the strike zone."  Having walked almost eight batters per nine innings in a 2011 season shortened by a back injury, I thought Rodney was in line for a minor league deal.  He still throws over 95 and gets tons of groundballs, and it's likely the Rays feel pitching coach Jim Hickey can get Rodney's walk rate down to a tolerable level.  Badenhop is an extreme groundballer as well, a nice fit for the best defensive team in baseball.  The 29-year-old allowed just one home run in 63 2/3 innings last year for the Marlins.  
Though light on experienced big league catching, the Rays also traded Jaso to the Mariners for Lueke.  The Rays are no strangers to controversial players, and Lueke comes with the baggage of the 2008 rape charge for which he later pled no contest for false imprisonment with violence.  Friedman said upon the trade, "We researched the 2009 incident that Josh was involved in thoroughly and in great detail.  We're satisfied that he is going to be the kind of person and teammate that we look for and we expect him to contribute positively to our group."  The Rays may have lowered the bar in their search for undervalued players, suggested John Romano of the St. Petersburg Times in November.
The Rays appear to be aiming for improved defense behind the plate, having traded Jaso and declined Shoppach's option.  Since they didn't receive offense from the position anyway in 2011, it made sense to double-down on defense.  Using the 36-year-old Molina as more than a backup is an interesting experiment given his strong defensive skills, but if he breaks down, inexperienced catchers Jose Lobaton, Robinson Chirinos, and Chris Gimenez could be handling the American League's best rotation with regularity.  Expect the Rays to keep a close eye on the catching market this summer.  There's also uncertainty at the shortstop position currently, but Hak-Ju Lee may be ready as early as next season.
The Rays kept the well-regarded Friedman-Maddon duo in place, as Friedman declined to interview for the Astros GM job and Maddon signed a three-year extension.  Friedman authored yet another precedent-setting contract for pitching phenom Matt Moore, signing him to a five-year deal despite just 17 days of Major League service.  There's risk in guaranteeing $14MM to a pitcher so green, but barring injury the Rays probably saved tens of millions of dollars and snagged a pair of free agent years, at their option.  Some young players are less receptive to this type of contract, perhaps including young Rays Desmond Jennings and Jeremy Hellickson, who are represented by the Boras Corporation.
The Rays hope they've found a way to improve their offense without affecting their rotation depth.  If the offense sputters, Friedman will still be in a strong position this summer, as few clubs can part with quality starting pitching without missing a beat.
Photo courtesy of Icon SMI.