The Rays have signed Carlos Pena to a one-year deal that will bring the powerful first baseman back to Tampa Bay, the team announced. The Scott Boras client will earn $7.25MM in 2012.
"Carlos is one of the most accomplished players in team history and he is a great fit for our club in 2012 both on and off the field," Rays executive VP of baseball operations Andrew Friedman said. "He adds to our offense with his power while maintaining the high defensive standard we seek."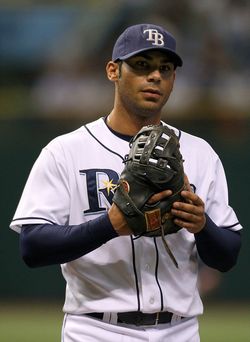 Pena, 33, posted a .225/.357/.462 line with 28 home runs in 606 plate appearances for the Cubs in 2011. He earned $10MM last, when the Rays spent $42MM on their entire Major League payroll. Pena averaged 36 home runs and a .238/.368/.516 line in his four seasons in Tampa Bay from 2007-10. Just 9.36% of 15,700 people who participated in MLBTR's December poll expected Pena to return to Tampa Bay. 
The Rays have added substantial power to the lineup in Pena and Luke Scott. Casey Kotchman, who played first base for the Rays in 2011, will presumably sign elsewhere — possibly in Cleveland — now that the Rays no longer have an opening at first base. Potential suitors for Pena such as the Yankees, Tigers and Indians will have to turn elsewhere for power bats.
The Cubs offered Pena arbitration after the season, so they'll earn a compensatory draft pick for losing the Type B free agent. However, the Rays don't have to surrender a pick to add Pena. Pena ranked 16th on MLBTR's list of top free agents entering the offseason.
Jon Heyman of CBS Sports first reported the agreement, after Yahoo's Tim Brown reported that the Rays were "in pretty deep" with Pena. Photo courtesy Icon SMI.