Looking to flex your fantasy baseball genius on a single night?  Try DraftStreet, where you can put together a new fantasy team every night and compete against other users for real money.
Right now DraftStreet has a freeroll for MLB Trade Rumors readers, meaning you can take a shot at a chunk of the $400 prize pool for free, with no strings attached.  Here's how it works.
The MLBTR freeroll is for Friday night's games (the afternoon Reds-Cubs and Yankees-Red Sox games are not included), so you have until 6:00pm central time to create your team.  You're given a $100K salary cap, and each player is assigned a price by DraftStreet.  For Friday, Cole Hamels is considered the most valuable player since he starts against the Padres, but he'll cost you over $17K.  Your roster will cover these positions: C, 1B, 2B, 3B, SS, 3 OF, 2 utility, 2 SP, 1 RP, 1 P and 2 Reserves (14 starters).  You get points based on how your team performs Friday.  For example, you'll get 0.75 points for each strikeout Hamels racks up and 1.5 points if he gets the win.  The teams with the most points get the prize money.  You can apply all kinds of strategy in building your roster – for example, check out the chance of rain at Comerica Park Friday before you decide to add Rangers and Tigers players.  Below I've taken a screenshot of my roster: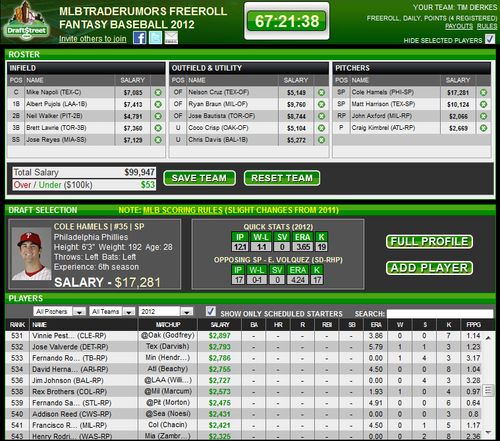 If you're interested, sign up and create a roster prior to Friday's night games (6:00pm central time).  It's quick, easy, fun, and the MLBTR league gives you a free chance to win some of the $400 prize pool.  If you enjoy the competition you can try other leagues for free and earn credits, or deposit real money.