Ivan Rodriguez will announce his retirement, Clark Spencer of the Miami Herald reports (on Twitter). The announcement will take place with the Rangers on Monday, the team he started his career with.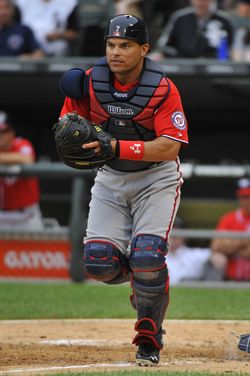 Rodriguez, 40, spent last season with the Nationals, hitting .218/.281/.323 with two homers in 137 plate appearances. That does not do his Hall of Fame caliber career justice, however. Pudge is a .296/.334/.464 career hitter with 2,844 career hits and 311 homers. He's a 14-time All-Star, a 13-time Gold Glove award winner, a seven-time Silver Slugger award winner, and the 1999 AL MVP. He finished in the top ten of the MVP voting three other times.
During his peak from 1998-2004, Rodriguez hit .322/.363/.538 with 162 homers. He played in 878 of 1,134 possible games, roughly 125 per season. Among catchers, Pudge ranks first all-time in hits (2,844), first in doubles (572), seventh in homers (311), fifth in RBI (1,332), and third in WAR (74.1). Thirteen of his 21 big league seasons were spent with the Rangers, but he also played for the Marlins, Tigers, Yankees, Astros, and Nats. Pudge helped Florida to the 2003 World Series title.
Rodriguez earned over $120MM during his career according to Baseball-Reference.com. His $8.5MM annual salary from 1999-2002 was the second highest annual salary for catcher in baseball history at the time. He was the highest paid catcher in baseball during the 2006 and 2007 seasons at $10MM each year.
Photo courtesy of US Presswire.