Matt Kemp and Clayton Kershaw are arguably the best player and the best pitcher in baseball, respectively, and both came up through the Dodgers' farm system. Los Angeles has also produced an All-Star closer (Jonathan Broxton), an All-Star catcher (Russell Martin), another All-Star starting pitcher (Chad Billingsley), and numerous other pieces in recent years. One player who has not developed as expected is first baseman James Loney.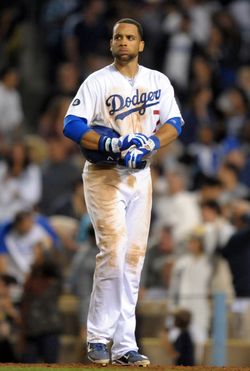 One year ago, the 27-year-old Loney was a non-tender candidate after hitting .267/.329/.395 with ten homers in 648 plate appearances in 2010. He started slowly last season, hitting just .254/.305/.327 through his first 434 plate appearances before turning it on in the second half and hitting .388/.438/.679 in his final 148 trips to the plate. That late-season hot streak likely saved Loney's job, as the Dodgers tendered him a contract and will pay him $6.375MM in 2012.
The Dodgers have been using the left-handed hitting Loney as part of a first base platoon with the right-handed Juan Rivera so far this year, and he's hitting just .194/.306/.258 in the early going. He's a career .299/.359/.453 hitter against righties and .250/.307/.365 against lefties. Other than seven innings of right field experience much earlier in his career, he's limited to first base and doesn't offer any versatility.
Loney will be a free agent after the season and first basemen with minimal power usually aren't hot commodities on the open market. His career high is 15 homers back in 2007, which he did in just 96 games. Since then he's hit no more than 13 homers while playing no less than 158 games in a season. A player Loney's age is just entering his prime, but his performance has declined in recent years and now he might hit the open market with his value at its nadir.
Photo courtesy of US Presswire.