There's not much overlap between the skills that earned Carlos Villanueva a spot in the Major Leagues and the skills that enabled him to represent his fellow-players in negotiations for baseball's current collective bargaining agreement. Patience and attention to detail are prerequisites for any MLB player interested in representing his peers at the bargaining table. An Ivy League education is not.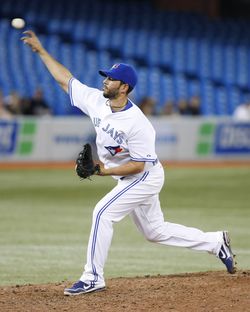 "We have guys there who are very highly educated and we have guys like me that signed out of high school from the Dominican," Villanueva told me in a recent interview. "So you just have to have an understanding about the rules and what everything means for the players' association and go from there."
Villanueva, an alternate representative on the executive board of the MLB Players Association, flew between Miami and New York several times per week this past offseason when baseball's owners and players completed the sport's collective bargaining agreement. Following a season of constant travel, most players elect to slow down, but Villanueva chose to participate in negotiations, even though it meant more time on the road. His interest in MLB labor relations emerged in Milwaukee, when former Brewers teammates Craig Counsell and Dave Bush, two prominent advocates for players, suggested Villanueva become involved.
"I think he is intelligent and thoughtful about the game," Counsell told me via email. "He really cares about baseball in his country and I think he realized that the Latin players need to play a role in the decision making at the union, which I strongly believed. Labor relations get more complicated every year and I just think Carlos is the perfect guy to offer his voice and have a good grasp on all the issues facing every type of player."
The message stuck with Villanueva, a speaker of Spanish and English. He can communicate with the vast majority of players in their native language, and he's interested in labor relations. It's not a combination he wanted to ignore.
"I just took it upon myself since I had a little more interest, I could understand a little more and there's really not that big of a barrier for me," the right-hander said. "So I thought if I have the tools to do it, I feel like I would be letting the guys down if I was not there."
The rest of the MLBPA's executive board consists entirely of American-born players: Bush, Jeremy Guthrie, Curtis Granderson, Chris Capuano, Aaron Heilman, Ross Ohlendorf and Kevin Slowey. Counsell, now a member of the Brewers' front office, says other players should be glad to have Villanueva on their side.
"He is going to have an important role moving forward with the changing landscape in Latin America," Counsell said. "I'm proud of him for taking an active role; the players will benefit from having his voice in the room."
Villanueva, 28, says his willingness to travel and listen enabled him to effectively represent the interest of his bosses — the players. It doesn't hurt to have Princeton graduates like Ohlendorf on side, but those who focus on pedigree are missing the point.
"You have to be interested in just a lot of sitting, listening and back and forth," Villanueva said. "A lot of guys don't have the patience for that. I like the back and forth, I like the negotiation and I like the paperwork. I like all of that stuff, knowing that I can make a difference in our world and in not only Latin America but the whole MLBPA."
To a layperson, dividing up $7 billion in revenue between 30 owners and 750 players sounds like a great problem to have. But the negotiations aren't always pretty, even in an era defined by labor peace and with experienced professionals Michael Weiner and Rob Manfred leading the way. Villanueva was present for negotiations and he says the tenor of the talks varies from day to day.
"It's a little bit of everything. It's more professional than anything. Some days it gets a little confrontational. Some days it's just boring," he said "Very boring. 
"They drag on. They drag and drag, but in the end we gave up some and we got some and I think it was a good deal for both sides."
The relationship between players and owners was considerably more turbulent from the 1960s to the 1990s. Now that the sides are approaching 20 years of labor peace, it can be tempting for outsiders to assume negotiations are a formality and peaceful agreements are inevitable. But the possibility of a work stoppage exists, even today.
"It could have gone to that point this year, too," Villanueva said. "But we worked hard for that not to happen. The MLB side didn't want to stop, we didn't want to strike. We know what issues cause strikes and this year we just wanted a fair deal for both sides. They didn't go after anything ridiculous. They didn't go after a salary cap. We were reasonable and I think we went at it the right way."
When the current agreement expires five years from now, Villanueva hopes to be around, not only as a Major League pitcher, but as an advocate for his peers in the U.S. and in Latin America. 
Photo courtesy of US Presswire.