In the aftermath of Geovany Soto's big 2010 season, the catcher was being looked at as extension candidate, in line for a healthy multiyear contract.  The Cubs held off extending Soto and instead chose to go year-to-year in arbitration, which may have proven to be a wise decision.  Soto followed up his .280/.393/.497 performance in 2010 with a disappointing .228/.310/.411 slash line in 2011, and has thus far gotten off to a slow start this season, with just a .526 OPS entering tonight's play.  (Though, in fairness, Soto's .157 BABIP indicates he's been very unlucky.)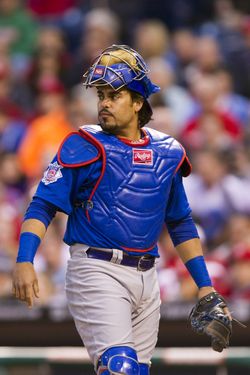 Soto earned $3MM in 2011 and $4.3MM this season during his first two arb-eligible years and is due for one more trip through the arb process before hitting free agency after the 2013 campaign.  We can tentatively predict Soto to earn around $5.5MM next year since even if he continues to hit poorly, I think the Cubs will still tender him a contract.  Soto's big 2010 season and his Rookie Of The Year campaign in 2008 are still too fresh in everyone's memory, and since solid-hitting catchers are such a commodity in the game, the Cubs will likely give Soto another chance to regain his past form.
"Likely," however, is not a certainty.  Soto is a middling-to-below average defender, so unless his bat heats up, he has little value.  Chicago has another catching prospect in 25-year-old Welington Castillo, who has posted an .852 OPS in 590 Triple-A plate appearances and is currently serving as the Cubs' backup with Steve Clevenger on the DL.  Jed Hoyer could go in a different direction next year, using Castillo and Clevenger (who also has some good minor league numbers) in a righty-lefty platoon, possibly with a veteran brought into the mix during Spring Training to add depth.
If the Cubs do give up on Soto, it's more likely that they would try to deal him at the trade deadline rather than non-tendering him for nothing in return.  The Rays are the most notable contender with a clear need at catcher, though a number of other teams could develop a hole behind the plate by the end of July.  If Soto can't get his bat going, expect him to be dealt for a low-level prospect to a team in need of a backup catcher.  If Soto does hit, however, he'll keep his job in Chicago for at least one more season, though the Cubs will still be right to hold off on an extension until they see what Soto does in 2013.
Photo courtesy of Howard Smith/US Presswire