If Carlos Quentin keeps hitting and the 17-35 Padres continue struggling, contending teams figure to call about the left fielder this summer. In a trade market that seemingly features little power, Quentin's right-handed bat will have considerable value.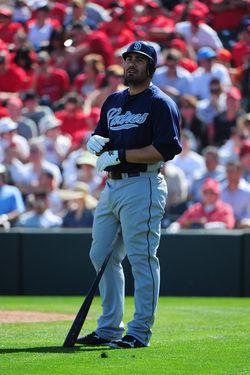 The 29-year-old recently returned to the Padres' lineup after missing nearly two months to recover from arthroscopic knee surgery. So far, the results have been remarkable. He has seven hits, including three home runs, in 12 trips to the plate. It's a small sample, of course, but in more than 2400 career plate appearances the two-time All-Star has a .254/.347/.496 batting line. In other words, Quentin offers an attractive combination of on-base skills and power as a hitter. On defense, he's sure-handed and has decent range with a below-average throwing arm, according to The Fielding Bible Volume III. 
Quentin will earn $7.03MM this season before hitting free agency. Similar players — think Josh Willingham, Jason Kubel and Luke Scott — are worth $6-8MM on the free agent market, which means a qualifying offer in the $12-3MM range seems highly unlikely. The Padres won't be getting draft picks for Quentin, so a trade appears to be the only way for the team to obtain a long-term asset for the left fielder.
When GM Josh Byrnes acquired Quentin last December, he sent minor league left-hander Pedro Hernandez and right-hander Simon Castro, a former top-100 prospect, to the White Sox. The Padres may be able to acquire better prospects if Quentin's knee holds up and his bat returns to form. As I mentioned before, there doesn't seem to be much power on the trade market (Alfonso Soriano could probably be had, but he earns $18MM in 2013 and 2014, which makes things messy). And it could take a while for bats to become available because more teams than ever are within striking distance of a playoff berth.
Once Quentin plays enough to show he is healthy, Byrnes could make him available and wait for other teams to start making offers. The Indians, Orioles and Dodgers are among the teams that might have interest in adding a right-handed hitting outfielder with power in the next eight weeks. If Quentin is healthy the Padres may come out ahead this summer and trade him for better prospects than the ones they surrendered to acquire him.
Photo courtesy of US Presswire. I discussed Quentin and the Padres yesterday on XTRA Sports 1360 in San Diego.