The Phillies aren't accustomed to losing more than they win, but if their early-season struggles continue and they're out of contention by the July 31st trade deadline, they could become sellers. Teams are already asking about Cole Hamels and the inquiries will become more frequent if the Phillies don't re-enter the NL East race within the next two months.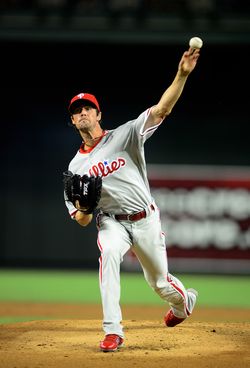 Hamels has been the 12th-most valuable pitcher in baseball since he first broke in to the Major Leagues in 2006, according to FanGraphs' version of the wins above replacement metric. He's off to another tremendous start, with a 2.28 ERA, 9.3 K/9, 1.7 BB/9 and a 41.3% ground ball rate through 47 1/3 innings in 2012. He'll be the best pitcher available if the Phillies decide they're serious about selling.
Yet two factors will limit Hamels' value for potentially interested teams. He'll be a free agent in a few months and there's no indication he's willing to sign an extension at a discount, especially this close to the open market. Secondly, any team that acquires him can't get a compensatory pick if he signs elsewhere. Under baseball's new collective bargaining agreement teams don't obtain future draft picks for losing players they acquired midseason. Interested teams would be looking at a two or three-month rental.
Recent midseason deals involving elite left-handed pitchers haven't worked out particularly well for the teams obtaining prospects. Hamels' teammate Cliff Lee was traded for Jason Knapp, Carlos Carrasco, Jason Donald and Lou Marson in 2009 then dealt for Blake Beavan, Josh Lueke and Justin Smoak the following season. The Brewers acquired C.C. Sabathia for Matt LaPorta, Rob Bryson and Zach Jackson in 2008. 
The Indians and Mariners haven't obtained the elite performers they were hoping for, but Knapp, Carrasco, Smoak and LaPorta were considered top prospects when they were dealt. There's no reason for the Phillies to expect less than an elite prospect plus secondary pieces for Hamels. They may even aim to obtain multiple top prospects for the left-hander. If no team meets their asking price, they can hold onto Hamels, tender him a one-year contract this offseason and obtain draft pick compensation assuming he declines the offer and signs elsewhere. 
Though Hamels' contract expires after the season, he has the potential to become the primary attraction of this summer's trade market. The Blue Jays have reportedly checked in on him and it's easy to envision teams such as the Red Sox, Tigers and Dodgers expressing interest if Hamels does become available. Other clubs will surely lose starting pitchers to the disabled list in the coming ten weeks, so new interest will emerge.
Ruben Amaro Jr. has successfully navigated the midseason trade deadline as a buyer, trading for front-of-the-rotation starters Cliff Lee and Roy Oswalt. The GM could face a new challenge this summer if the last-place Phillies don't improve on their 16-19 record. Amaro would have leverage, since Hamels would generate considerable interest and the Phillies could always keep him and obtain draft pick compensation in 2013 if interested teams propose one-sided trades.
Photo courtesy of US Presswire.