Clayton Kershaw's salary jumped from $500K to $7.5MM this year, and it wasn't just because of his Cy Young performance. Kershaw qualified for arbitration for the first time in his career over the winter, so he obtained the right to establish his salary by comparing his production to that of his peers.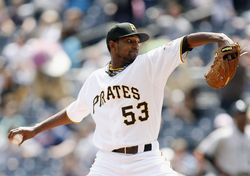 Though $7MM raises are reserved for elite performers like Kershaw, many first-time eligible starting pitchers will see their salaries rise from $500K or so to $2-4.5MM this coming offseason. A player's case depends in large part on his career numbers, but his most recent season, or platform year, matters a great deal. 
Advanced statistics like xFIP, wins above replacement and swinging strike rate don't generally figure in to arbitration cases. Instead, traditional stats such as innings, starts, wins and ERA determine players' salaries.
With one third of the season now complete, let's check in on the prominent starting pitchers on track to be first-time arbitration eligible this coming offseason:

Injuries have limited Jhoulys Chacin, Doug Fister, Marco Estrada, Chris Narveson and Neftali Feliz. All of these pitchers are on the disabled list, none of them are on pace to complete 150 innings, and three of them — Estrada, Fister and Chacin — remain winless.
Phil Humber and Tommy Hunter have stayed healthy, but they're off to disappointing starts that include losing records and ERAs above 5.50. The homer-prone Hunter is pitching at Triple-A, and could soon be recalled. The collective bargaining recognizes special accomplishments, and Humber's perfect game definitely qualifies, so his representatives at Moye Sports Associates could play it up should the sides go to a hearing. Yet there's no clear conversion rate in place to help value Humber's perfecto.
Brian Matusz and Ross Detwiler both spent considerable time in the minor leagues last year, but they've responded with solid seasons to date. Both will head to arbitration with losing records, however, and Matusz's career ERA sits at 5.32.
Bud Norris, Ian Kennedy, Tommy Hanson, Mat Latos and, to a lesser extent, Mike Leake all entered the season with the bulk innings totals that often lead to generous salaries in arbitration. All five pitchers continue piling up innings, though Leake, Latos and Norris have ERAs above 4.50. The pitchers in this group figure to be compared against one another over and over this coming winter.
Former top prospects Jeff Samardzija and James McDonald (pictured) are enjoying breakout seasons. Both right-handers have career-best walk rates and are averaging one strikeout per inning. If they can keep this up — or at least come reasonably close to doing so — their paychecks will reflect the improvements in 2013 and beyond. Unfortunately for Samardzija, starters Rick Porcello and David Price didn't seem to be able to use their generous pre-arbitration salaries to boost their arbitration earnings this past offseason, so his current $2.64MM salary probably won't help much.
It's early enough for the fortunes of these pitchers to change dramatically. Feliz could return to the bullpen, Fister could replicate last year's second half success, or Samardzija could regress. But, ten-plus starts into the season, these pitchers' platform seasons have started taking shape.
Photo courtesy of US Presswire. Stats via Baseball-Reference.com. Note that Derek Holland and Jonathon Niese signed extensions covering what would have been their first arb years. Madison Bumgarner, Stephen Strasburg and Daniel Hudson are expected to fall just shy of super two eligibility, though that's not official.