The Cubs, now 21-41, aren't going to win anything this year, and they're reportedly willing to listen to trade offers on a variety of players. The Cubs' front office members would consider a new contract for Ryan Dempster, but there's no denying the obvious: the 35-year-old right-hander could just as easily be traded.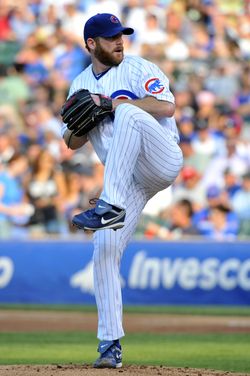 Teams will have interest in Dempster this summer. He has a 2.31 ERA, and while his peripheral stats suggest the ERA is not quite sustainable, he's been highly effective by most measures. He's striking hitters out (7.7 K/9) and owns a career-best walk rate (2.4 BB/9). Though his average fastball velocity has dropped below 90 mph, he continues to generate swings and misses (9.8% swinging strike rate). 
This year isn't an anomaly, either. Only 16 pitchers have been more valuable in the past five years, according to FanGraphs' version of wins above replacement. For context, the metric ranks Dempster alongside pitchers such as James Shields, Josh Beckett and Mark Buehrle for 2008-12.
Dempster's contract status could complicate trade talks. He'll earn $14MM this season before hitting free agency, so his salary could deter some low-revenue suitors. If a trade is completed, the acquiring team won't be eligible to obtain draft pick compensation in 2013, so other interested teams may be reluctant to meet the Cubs' asking price. And Dempster has earned ten and five rights, so he can block any trade or demand compensation for being traded. All told, Cubs general manager Jed Hoyer, Dempster, and the pitcher's representatives at LSW Baseball face an unusual situation.
The Dodgers are known to be interested in Dempster and others clubs are presumably eyeing him as well. The Braves, Yankees, Red Sox and Tigers are among the contenders that might seek rotation help between now and the end of July.
If Dempster agrees to waive his no-trade protection — and it sounds as though he's open to the possibility — the Cubs will be positioned to demand valuable prospects or controllable young players in return. The trade market could include Cole Hamels, Zack Greinke and Shaun Marcum seven weeks from now, but at the moment Dempster might be the top starter available and it's an advantage the Cubs could look to exploit.
Photo courtesy of US Presswire.