The Tigers were willing to trade top prospect Jacob Turner to reinforce their roster with Anibal Sanchez and Omar Infante in a move that addresses their two biggest needs. Yet there's no guarantee that they'll get any sort of long-term assets as a result of the deal.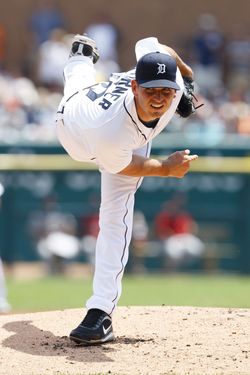 Players traded in past midseason deals could be tied to compensatory draft picks, but Sanchez won't be connected to anything of the sort. It's now against the rules for teams to obtain compensatory draft picks for players acquired midway through the last year of a contract. Infante, who earns $4MM per season through 2013, will not bring the Tigers draft pick compensation, either. For that to happen, the Tigers would have to be prepared to offer $12MM-plus when Infante's contract expires following the 2013 season. It's not happening.
Leading up to the trade deadline, some general managers speculated that teams would be reluctant to trade top prospects for players on expiring contracts. For some teams the idea of surrendering an elite prospect for a rental player seemed unappealing, especially now that the possibility of obtaining draft pick compensation no longer exists.
But for at least one club, it's a necessary sacrifice required to make meaningful midseason upgrades. Though Turner (pictured) entered the season as the 22nd-ranked prospect in MLB, according to Baseball America, the Tigers weren't going to address their issues at second base and in the rotation without including him. The Braves' willingness to part with Randall Delgado for Ryan Dempster is another example of an aggressive trade offer for a player who won't be tied to draft pick compensation.
It's not entirely new for the Tigers — president and GM Dave Dombrowski has made a number of similar win-now decisions in recent years. Under baseball's pervious collective bargaining agreement, they were willing to sign Type A free agents under the right circumstances, even when it meant surrendering draft choices. They had to forfeit draft picks to sign Prince Fielder, Victor Martinez and Jose Valverde, though the lost draft selections were significant for Dombrowski — "you don't like to give them up," he acknowledged after signing Martinez.
The Tigers didn't lose a pick in this week's trade (they did swap competitive balance picks with Miami). But they gave up a long-term asset in Turner to bolster their chances in 2012. The Tigers-Marlins trade and the near Braves-Cubs trade appear to be encouraging developments for teams currently marketing other players on the brink of free agency. Highly-regarded prospects seem to be attainable even when draft pick compensation isn't a possibility. The Brewers, for example, can reasonably expect a top prospect of their own if they complete a trade for Zack Greinke. Maybe the new CBA won't affect teams' willingness to part with top prospects as much as initially expected.
Photo courtesy of US Presswire.