The Giants have to have bolstered their lineup with an All-Star caliber outfielder for the second consecutive summer.  They acquired right fielder Hunter Pence from the Phillies for right fielder Nate Schierholtz, minor league reliever Seth Rosin and, minor league catcher/first baseman Tommy Joseph the Phillies announced.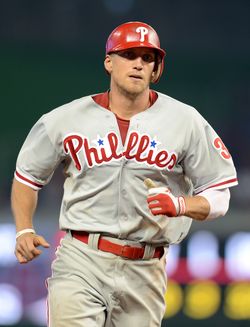 Pence, 29, is hitting .271/.336/.447 in 440 plate appearances for the Phillies this year.  He's under team control for 2013, though his salary could exceed $14MM.  He'll boost a Giants lineup that ranks 11th in the NL with four runs scored per game.  GM Brian Sabean snagged one of the best bats on the trade market last summer as well with Carlos Beltran, but Pence is more than a rental.  
Pence joined the Phillies one year ago in a trade with the Astros, but amidst a disappointing season GM Ruben Amaro Jr. is cleaning house.  Less than an hour ago, the Dodgers acquired another member of the Phillies' outfield in Shane Victorino. Los Angeles also acquired Hanley Ramirez and Brandon League, creating pressure for their NL West rivals.
Schierholtz, 28, appears to have requested a trade after seeing his playing time diminish. T he left-handed hitter has a .257/.327/.429 batting line in 196 plate appearances this year and a .270/.319/.412 line in his six-year career.  He's earning $1.3MM this year and can be retained through 2014 via the arbitration process.
Rosin, a 23-year-old right-hander, stand 6'6".  He has a 4.31 ERA with 10.9 K/9 and 2.9 BB/9 in 56 1/3 innings at Class A so far this year.  The 2010 fourth round pick has struck out three times as many batters as he has walked in the minor leagues.
Joseph, 21, is hitting .260/.313/.391 in 335 Double-A plate appearances this year.  Baseball America wrote before the season that the 2009 second-rounder should be able to stay at catcher.
Jon Heyman first reported the trade today.  Two days ago, Dennis O'Donnell of KPIX was first to report that the Giants had a deal in place for Pence involving Joseph.  Todd Zolecki first reported that Rosin was in the trade.  Danny Knobler confirmed Joseph's role in the trade.