The Rangers wanted Geovany Soto enough to trade minor league pitcher Jake Brigham for him. Do they like him enough to earmark $4MM-plus and a roster spot for him in 2013? Soto doesn't have any guarantee that his Rangers career will last more than a few months.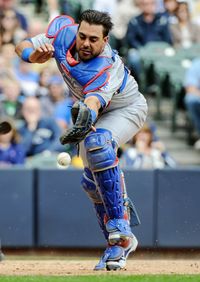 Soto has emerged as a 2012 non-tender candidate, since his offense has diminished to uncomfortably low levels. He's on track for career-lows in batting average, on-base percentage and slugging percentage this year, and after 206 total plate appearances he has a batting line of .201/.286/.348.
Those offensive numbers would be disappointing for just about any player, but they're especially troubling for a former Rookie of the Year known for his bat. Soto was an above-average offensive player in 2008 and 2010, and his offense remained passable in 2009 and 2011. His batting average on balls in play is presently 74 points below his career average, an indication that bad luck has contributed to his poor season. Soto's still just 29 years old and he has a history of hitting left-handed pitching (career .904 OPS vs. southpaws), so there's some reason for optimism going forward.
Soto does an average job at limiting the running game. He has prevented 27% of stolen base attempts both this year (league average is 26%) and for his career. The Fielding Bible Volume III suggested before the season that Soto was a capable but unremarkable defensive catcher.
Soto now earns $4.3MM and is on track to go to arbitration for the third and final time this offseason. The Wasserman Media Group client projects to earn $4.6MM in 2013, according to MLBTR contributor Matt Swartz. If the Rangers view Soto as a platoon or backup catcher, they probably won't be inclined to pay him starter money. And if they are willing to spend $4.5MM on a catcher, they'll have plenty of choices other than Soto (only one free agent catcher obtained more than $4MM in guaranteed money last offseason).
Soto provides the Rangers with insurance in case Mike Napoli leaves as a free agent after the season. If Napoli signs with another team before the mid-December deadline for teams to tender contracts to arbitration eligible players, Texas might be more inclined to retain Soto and hope for a return to his career norms in 2013. 
It's possible for players to restore their value and avoid non-tenders with a strong showing down the stretch. Delmon Young seemed likely to be non-tendered a year ago this time, but he hit eight home runs in 40 regular season games with the Tigers before adding five more homers in the postseason. If Soto shows flashes of being the same hitter he was in 2008 and 2010, the Rangers may determine he's worth retaining for 2013. If not, expect him to hit free agency in December as a 2012 non-tender.
Photo courtesy of US Presswire.